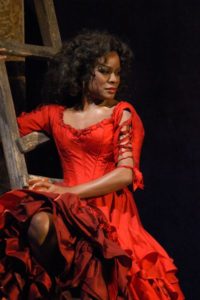 Carmen as a man?
In Massachusetts it seems if we question giving a man the role of Carmen or a man any role that we enjoy being normally played by a woman such as Juliet then perhaps we have a discriminatory view toward life. That is what the Massachusetts Commission against Discrimination (MCAD) is telling us. It says it  is the intent of the new law prohibiting gender discrimination.  We must treat every job as open to each gender.
The crazies have taken over. We are told we are acting with a discriminatory intent and trampling on the civil rights of others if we object to people who do not follow traditional gender roles, stereotypes, or cultural norms.
I happen to like the Opera Carmen. I have seen it many times. Carmen is usually a beautiful seductive lady who causes the corporal Don José to fall madly in love with her as she dances the provocative habanera after having a fight with another woman who worked with her at the cigarette factory. Throughout the opera she dances and lures men including the famous toreador Escamillo who arrived at Lillas Pastia's Inn where Carmen escaped to. He sings the Toreador Song  while unable to take his eyes of off Carmen.