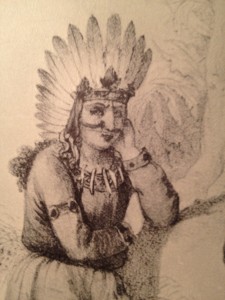 I wrote about Denali the other day. That is the name that has been given to a  mountain peak because the people who lived near it before it became part of the United States used to call it that.  It had been named after a person who was a newcomer to the land. Those who decide on naming places believed that was wrong. They changed the name of the mountain peak back to that the original people used. The highest mountain peak in North America which used to be known as Mount McKinley is no longer known as that.
In this land the newcomers call the United States of America there are many places that had original names given to them by the original folk. The newcomers changed those names. Are we going to be consistent and start using the original names given to places by the original people? Will people now go on their honeymoon to Onguiaahra the name given to Niagara Falls by the original people? 
I suppose if the newcomers are changing names we should start with the most fundamental one. What is the name by which newcomers should refer to the original people of this land. Obviously it is not right to call them Indians a name erroneously applied to them by Columbus who thought he landed in India.