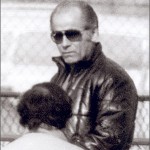 All the books written about Whitey and Stevie Flemmi jump over the return of Stevie and his involvement with Winter Hill. None seemed to be curious about how Stevie and Whitey became partners. They treat this happening as if their relationship had existed for all time, yet as we know Stevie had no knowledge of who Whitey was prior to his return, nor did Whitey know much about Stevie except from what he may have learned from the others.
I suggest it is important to understand how they became partners in order to understand how it was they developed their relationship within the Winter Hill Gang and with FBI Agent John Connolly.
The reason the books are lacking information about this is that Stevie did not testify about it. Had Stevie done so then we may have read something about it but what we would have read is what Stevie told us. We know Stevie is a liar so how do we construct our knowledge or put much credence in what he says one way or the other. Stevie, like all the others who turned state's evidence, knew the best chance for a sweetheart deal was to lessen his involvement in crimes while exaggerating the importance of Whitey. That is what the prosecutors wanted to hear.
In the middle of 1974 outside of South Boston Whitey is a nobody. When you read Ralph Ranalli writing that states around March 1973 Whitey was "either involved in or ordered seven other murders during the same time period according to Martorano's plea agreement" you see how much loose writing has occurred with respect to this matter and how little it has been examined. At that time Whitey is in no position to order anyone to do anything, he's pretty much a supplicant.
In South Boston he still exists in a precarious position. He has formidable enemies in the Mullen Gang including Paulie McGonagle who is still smarting over the death of his brother at the hands of Whitey's friend Billy O'Sullivan; Tommy King who is reputed to be as smart and tough as Whitey who wasn't happy with the deal cutting Whitey in on the South Boston rackets when it looked like he was on the run and they could have had it all for themselves; and the ever treacherous and wily Pat Nee who had made the truce with Whitey. Nee was probably the most dangerous and conniving of the three having been trained as a Marine grunt and having served in Vietnam. Although he probably was not the toughest.
We've seen Flemmi was in continual contact with FBI Agents Rico and Condon during this period of time making sure things were going as planned. He must have had some contact with the Winter Hill Gang probably through one of the Martoranos who were with him as part of the Roxbury Gang. He had no prior relationship with Whitey to speak of. Judge Wolf wrote in his opinion that "Bulger and Flemmi had met socially once or twice in the 1960s, but did not really know each other previously." It's difficult to see that even happening since they ran in different world's and half that time Whitey was in prison.
Here are the things that happened during this time that we must try to figure out before we go on. How did Stevie and Whitey become bosom buddies? What was their relationship to the rest of the Winter Hill Gang?  How did they both end up as FBI informants?
When Stevie gets back, he and Whitey seemed to be drawn to each other. Whitey is still an outsider in the Winter Hill Gang, he's accepted but considered a little bit different. I've noticed over and over again a trend that people never seemed to warm up to Whitey and would knock him behind his back but no one ever did to his face. I'd suggest the Winter Hill gangsters at the time had a lot of respect for Whitey, if not some fear of him, but considered him somewhat of, not so much a loose cannon but, a loner who walked to a different drummer.
Stevie would have to renew his old acquaintance with John Martorano and his brother Jimmy, part of the Roxbury Gang. Almost five years had passed since they had done anything together. Prior to his flight, Stevie was working with Frankie Salemme and Larry Baione and did very little with John Martorano. If they weren't that close, the passing years would have not brought them any closer. It's likely they had little left in common.
There's no reason to believe Stevie had a close prior relationship with Howie Winter, Joe McDonald and Jimmy Sims. He ended up on their side during the Boston Irish Gang War but he began on the side with the McLaughlins and his involvement was not so much as part of either side but doing some killings with Frankie Salemme who was working for Raymond L.S. Patriarca.
So in a sense, like Whitey he too was somewhat of an outsider in the group. Frankie Salemme  pretty much described the position they were in when when he testified in April 10, 2003, under a court issued immunity order. Although he was speaking of some other hoodlums the description sort of fits, "I like to call it the banding of the misfits, because they couldn't hook on anywhere else, they hooked on with themselves and used to hang out together."
Frankie Salemme gave further insight into this when he specifically spoke of Whitey and Stevie:  "Bulger was a squirrel, and so was Flemmi. They're not extravagant people. They're not nightlifers or boozers.  They weren't gamblers and they didn't do drugs . . . ."  He'd also called Flemmi a womanizer, a description some gave about Whitey.
What I suggest is you had two hardened criminals each of whom was as tough and fearless as the other. Each found in the other an image of himself. They had the same likes and habits. They needed some one person to totally trust. They knew the other top gangsters in the group already had strong allegiances to others.
They started to hang around with each other. Whitey liked it that Stevie had combat experience and was someone he could exchanged war stories with. The liking turned into a trust and then a partnership.
It seemed to happened very quickly, sort of like love at first sight. We know though that Flemmi had another very close relationship. We don't know when he told Whitey about it but we do know that Whitey would learn of it. It would become a  ménage à trois minus the sex.