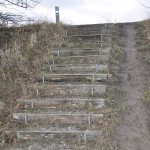 Even though I believe it was Speaker McCormack who brought Connolly back to Boston so he could be near his family, I understand there is another position on this. I'm aware others have suggested that Connolly's arrest of Frankie Salemme was part of a scheme put together by the Rico/Condon team to bring Connolly back to Boston to be the handler of Whitey and Stevie Flemmi.
In 1973 Rico is within 2 years of retiring and Condon within 4. They feel an obligation to Steve Flemmi for the help he has been giving them since at least 1965. They don't want to hang him out to dry not only because of what he's done in the past but they know of his future value as an informant for the FBI. They need to find an agent to handle him to replace themselves.
Frankie Salemme and Stevie Flemmi were fugitives from murder charges. After being indicted in September 1969, both men fled to the West Coast along with Peter Poulos. Frankie thinking it better they separate quickly flew back to New York City. Stevie went to Las Vegas with Poulos where he murdered him in October 1969. He then flew to New York City to join Salemme.
Stevie, using the pseudonym "Jack of South Boston" stayed in touch with FBI agent Rico and through him with Agent Condon while he was on his flight from justice. Salemme and Stevie were living in the Big Apple when Connolly arrived there. Sometime after that point in time Frankie said that out-of-the-blue Stevie told him he was leaving the city. Stevie gave no reason for this sudden decision. He then up and left.
Frankie said, "it wasn't shortly after that I was bumped into by John Connolly on 83rd Street and 3rd Avenue" in New York's Upper East Side. Connolly pulled a gun on him and placed him under arrest. It was around Thanksgiving, 1972. Little doubt exists that Connolly knew the whereabouts of Salemme from information Stevie was giving to Rico/Condon. Frankie testified Connolly, "could identify me. Like I said, I knew him since he was a kid in L Street, along with Billy Bulger and a few more of them, but that was his purpose for being there." 
FBI Agent Condon testified he sent pictures of Salemme to Connolly and Connolly carried them in his wallet but take that with a grain of salt. I'm tempted to say you can take most FBI evidence like that. Those agents, like most cops, play with the truth to as they deem  necessary. All you had to do was sit through John Connolly's trial, as I wrote about in my book Don't Embarrass The Family and hear a FBI veteran of 29 years testify he did not know what Connolly meant when he used the term M.O. in reference to the gangsters to have grave doubts about their commitment to telling the full truth.
From his L Street days Connolly surely would have known Salemme, have had a fixed picture of him in his mind. and would need no photograph of him. Obviously Salemme would know Billy because he was the chief lifeguard and had become a state representative. Had he been neither of these, they'd still have known each other because like in Cheers, L Street was a place where everybody knows your name.
To determine whether there was this Rico/Condon plan to bring Connolly back you must consider the landscape at the time. It seems probable Condon may have met Connolly in 1968 before he joined the FBI. Some have written that Connolly's friend from South Boston, a Boston detective Eddie Walsh, introduced them after Connolly got accepted into the FBI. No one has suggested any other relationship among Rico, Condon or Connolly. It also seems likely that Condon knew Connolly was in New York City and was in touch with him.
I'd go as far to say that Rico and Condon wanted to have him arrest Salemme. He knew what he looked like and Connolly's knowing Salemme from the past  provided perfect cover for his "accidentally" coming upon him on Third Avenue.
We can we speculate and say they brought Connolly from San Francisco to New York to carry out that arrest. I have trouble believing they could plan such a move. They knew nothing about Connolly. Whether they did or not the end result would be the same. Connolly's appearance in New York was fortuitous for them to execute their plan.
But we have to keep in mind, Condon doesn't really know much about Connolly other than he's from South Boston and he met him once. Rico never met him. Rico/Condon knowing the need to get Flemmi back to Boston and turn him over to another agent formulated a plan that roughly went along the lines: get Flemmi out of New York, bring about Salemme's arrest, bring Salemme to trial and arrange it that the charges against Stevie Flemmi be dismissed. That's a pretty large amount of work they had ahead of them. They would have only limited control over its timing. It could have taken years to bring Salemme to trial and a similar unknown amount of time to bring the DAs on board so that they would let Flemmi out on bail and dismiss his pending cases.
In 1973 they still have plenty of time to screen other agents looking to come up with the right type of agent to handle Stevie. It wouldn't be up to them anyway. Stevie Flemmi would make that decision after he was briefed on and met his new handler. I can't see them also planning that John Connolly a practical stranger to them and an unknown quantity would be the guy to handle Flemmi.