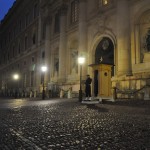 Keep in mind for the FBI Stevie Flemmi was the lynch-pin. It got him out of a murder, a major felony (blowing up a lawyer's car) and a fugitive from justice charge after he got back from being on the run in May 1974. It knew he was the one with access to the Mafia. Black Mass noted: "Flemmi . . . knew all the leading [Mafia] players and was frequently in their company." Howie Carr had it Whitey was a small timer.  
Whitey's value to the FBI paled in comparison to Stevie's. No one would expect Whitey to help the FBI in its nationwide fight against the Mafia  Recall Agent Dennis Condon tried to recruit him in May 1971 writing "he could be a very valuable source of information relative to the organized criminal activities in South Boston, Mass." Whitey from Southie and the Boston Mafia were like the Hatfields and McCoys.
Condon's job after Stevie returned was to pass him on to another agent since he was retiring. He held his hand and helped him break in with his new handler who happened to be Connolly. Stevie at the time is also developing his relationship with Whitey.
Black Mass has Connolly lining up Whitey by asking him to inform on the Mafia. It's totally wrong. Connolly from Southie would know he could give him nothing on the Mafia. Black Mass later says that after Whitey became an informant, he "blended in Flemmi, and a package deal was forged."  Aside from the order being wrong, Flemmi was already the informant,  the use of the term "blending in,"whatever that is supposed to mean, is pretty much an admission these authors have no idea how that would have happened.
Ranalli's book Deadly Alliance  suggests Whitey was an informant since 1971 but was kept off the books because of the Notangelli murders. That makes little sense. Those murders didn't start until 1973. Why keep him off the book a year and a half before the murders even are conceived. Also, that doesn't account for Flemmi, or that Whitey was only being recruited as an informant in 1971 but rejected the overtures.
Howie Carr and Judge Wolf follow Stevie's testimony that Whitey came up to him in 1974 in the garage in Somerville. Stevie said Whitey told him Connolly wanted to talk to him. Stevie gave him the OK to do it thinking it a good idea. He then testified Whitey set up a meeting with him Condon and Connolly at an "obscure" coffee shop in Newton. Flemmi said Connolly told him the FBI wanted to get information from him again. That doesn't fit. Stevie is already on board. Why else did the FBI have all the charges dropped against him.
John Martorano tells a different story. He says Whitey called everyone together in the garage and announce that Connolly wanted to sit down with him. He said his brother Billy set it up because he wanted Connolly to keep Whitey out of trouble. Connolly owed Billy so he wanted to help Whitey.(Martorano said Connolly said Billy helped him get him into BC and onto the FBI and that's why he "owed" Billy. Truth is, as we've seen Billy did neither, not being in a position to do this.)
What makes Martorano's story even more unbelievable is Whitey would never mention anything about his brother Billy, especially to a gathering of gangsters joined in a confederacy of corruption. If you think he's going to give them something against his brother you have no idea what world these guys lived in. No one has produced an iota of evidence that Whitey ever spoke of Billy as it involved his criminal activities. He was intent on not letting Billy know anything about his life. Assuming, something averred to by others which I don't believe and for which there is no proof, that Billy knew of his heinous crimes, Whitey would not be telling criminals about it knowing they'd gladly use it as a get out of jail card.
Martorano went on saying we told him OK. Martorano said Whitey did this because he knew if anyone saw him talking to an FBI agent that would be lights out for him. We are supposed to forget that Stevie had been talking to the FBI for over ten years and was alive and well. Martorano then went on to say that later Whitey told them he wanted to introduce Stevie to Connolly and they all agreed to that. The nonsense flows like green beer on Saint Patrick's day.
If you live in a bag you might believe all that stuff the gangsters add and the writers mindlessly spin out. Stevie testified to the reverse story of Whitey being the informant and himself not being one because he was in court facing his gangster buddies. He wanted the gangsters to believe that somehow he was forced, or as he told Martorano and Salemme blackmailed, into becoming an informant. He wanted Whitey as the one who set up the meeting with Connolly and the FBI as far fetched as that seems.
The FBI did not bring Stevie back and get the murder of Bennett and attempted murder of Fitzgerald charges dismissed without getting something back from Stevie. These agents wanted his help in going after the Boston Mafia. He was the only one who they had who could give that help. Stevie would prove his worth time and time again right up to the Mafia induction ceremony in the late 1980s. Truth is the FBI did not need Whitey when it had Stevie.
Stevie, as mentioned, had two very important aspects of his life that he had to bring together in order for him to achieve his goals of money and women: Whitey and the FBI. He needed to bring them together so he could work with both of them. Stevie had  became close to Whitey because their habits were identical and their basic desires similar. He and the FBI had to figure out a way to bring him on board. The FBI wanted to keep him happy.