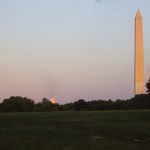 Whitey and Stevie's relationship would not be put asunder until Stevie testified in 1997.  It had lasted over 22 years, the last three were years of separation: Whitey was hiding out, Stevie was in prison. Connolly kept up his role in the trio all through that time.
Of the three, Connolly was brought along for the ride. He was always the junior man, a young kid gofer hanging around with the guys with the rep, sort of a valet, a gentleman's gentleman, or in this case a gangster's gentleman. He really was no match for either of these hardened men: Flemmi by combat and prior murders; Whitey by prison and innate toughness. Both by daily living in the jungle of the depraved and cruel gunmen.
Remember Connolly has had no prior experience dealing with informants. Flemmi is his first and Whitey is his second. He's a new-born lamb being circled by two wolves who played with him as a cat with a mouse. The FBI provided no guidance to him. He had no checks and balances. He was given a tabula rasa and told to fill it in. There were rules but everyone knew they were fake. They were to protect the job from embarrassment but otherwise to be ignored.
His FBI supervisor was the corrupt friendless man John Morris who likewise had no experience dealing with the hard criminal types. He testified, as set out in my book, Don't Embarrass The Family, he didn't fit into either group in the Boston FBI office which is pretty pathetic considering the type of agents there who were very open and friendly. Morris, an oddball like Robert Hanssen, wanted to be liked. Whitey and Stevie were very willing to  like him, and since they were in the corruption business, to welcome him in.
Of the threesome Flemmi was the most despicable and what would go along with that, the most cowardly. Despicable, not because of the many murders he committed, but because he killed two young women he had known in the Biblical sense. Even if one believes his invented story that Whitey murdered them, Flemmi stood by and let it happen.
Cowardly because he had never done time and to avoid that he turned on everyone he could to extricate himself from his self-made situation; because he murdered two young women or worse stood by while it happened; and was an FBI informant all of his adult life. It's hard to think of a worse person. Since his decision to turn on others he has continually perjured himself in his testimony. Yet, he's the main witness of the prosecution. Imagine asking us or a jury to believe this man!
Whitey likewise has become diminished in stature. He is no longer keeping his mouth shut, accepting the blame for his life of evil, and walking off with his head held high. He's whining about the food in prison. He's now saying, whether true or not, that he paid Connolly for information. He is undermining the guy that helped him enjoy the good life. He does not seem to understand that this makes him an informant against Connolly, something he avers he would never be.
Whitey had a mirror that always told him he was the fairest of them all and all that mattered was what he wanted. He somehow still fails to see it lied to him. He must accept that he can never get out of jail and his future life will be for the most part intolerable, bordering on cruel and unusual treatment without recourse to the courts, for in the eyes of the judiciary he belongs among the damned.
Yet he still has it in his power to act wisely and alleviate any harm he has brought to his family and those who stuck by him. That is all that should matter to him now. He should look beyond the mirror at the lives of others. He must now decide how he wants his final chapter to be written. He might think he's getting a raw deal and people are lying about him but he should think of the raw deals he has given other people and accept his cup.
And as we've heard a wise man say, the last shall be first. Paradoxically it turns out that the lowliest member of this threesome is the highest. John Connolly now seems to be the only stand up guy. The guy told by his bosses to get into this group has been harshly sentenced for his Boston conviction and wrongfully convicted in Florida.
He does his hard time in a Florida prison refusing to be lured into freedom by perjuring himself. Rejecting the prosecutors blandishments to give them something about Billy Bulger, even lies since he has repeated said Billy is a man of integrity, he will be imprisoned for life, unless this cruel injustice is reversed.
Unlike all the others, including all the witnesses against him he did not set out to live a life of crime; nor did he put a bullet in another person's head or watch while it happened; nor did he lie to save himself from the likelihood of dying in prison.
Only in this confederacy of liars could truthfulness be so severely punished and villainy rewarded..