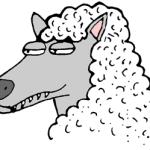 Here's where Judge Wolf seems to be dressing himself in sheep's clothing attempting to disguise his lack of foundation for his inexplicable finding.
He started out saying "more specifically" and he moves on to note, "Morris testified the Miani matter was one of three instances in which he unsuccessfully attempted to exploit Bulger's reputation for violence in an effort to get information for the FBI."  We're suppose to be comforted that he's basing his finding that in 1975 "the FBI was well-aware that Bulger was widely regarded as brutally violent when Connolly sought his cooperation" not only on the suspect Miani incident mentioned yesterday but on two other circumstances that Morris testified about.
In footnote number 33 he refers to the other two: "Morris and Connolly told Buckey Barrett, in an effort to intimidate him, that Bulger and Flemmi would be seeking from him a share of the proceeds of the Medford Depositors Trust robbery, but that the FBI would protect him if he cooperated in its investigation of that crime. . . .  In the late 1980's, an 11-year old girl, Sara Pryor, was kidnapped. A recently arrested individual from South Boston was suspected to be the kidnapper. . . . Morris, Connolly, and another agent, brought Bulger, who was then an informant, to the jail and suggested to the suspect that Bulger would deal with him if he did not confess."
There is a real problem with using these incidents to support Whitey's reputation in 1974 and 1975. The Medford Depositors Trust robbery happened in 1980 and Buckey Barrett was not murdered until 1983,  Sarah Pryor disappeared in October 1985.
These events could not have been incidents that Connolly knew in the mid-Seventies when he was trying to get Whitey's assistance. Why is Wolf trying to support his conclusion by using matters that he had to know did not support it? The truth is that when Connolly recruited Whitey he was a little known hoodlum involved in strong-arm tactics in South Boston and who prior to his involvement with Steve Flemmi after May 1974 had never been involved in a murder.
As I mentioned previously, Wolf also has the Flemmi and Whitey relationship butt-end-backwards. He makes Whitey becoming an informant in 1975 as a happening which occurred before Flemmi became an informant. He does this  even though he knew from FBI records and Flemmi's admissions that Flemmi had been an informant since the early 1960s. He also knew that the FBI helped get rid of two serious felony indictments, including murder, that were pending against Flemmi to bring him back to Boston to help it in its war against the Mafia.
The only explanation I can fathom is that Wolf fell for the Flemmi nonsense that he was being led around by the nose by Whitey. He then had to figure Whitey had this enormous reputation for a brutal man like Flemmi to come under his sway. Wolf failed to see what was happening in front of him in his courtroom.
Flemmi had admitted he'd been an FBI informant just about all through his criminal career. He was testifying in front of his co-defendants and buddies from the Roxbury gang days, John Martorano and Frankie Salemme. He did his best to shade his testimony to make himself look as naive and innocent as possible and make Whitey into some type of super criminal.
Wolf sucked it in hook, line and sinker. Why Wolf didn't step back and see that when Connolly recruited Whitey he had no value to the FBI? His attempt to suggest Connolly knew more than he did about Whitey makes him incorporate incidents that occur far after the time of recruiting. He knew that basically Connolly was recruiting a bookie and loan shark.
All right we'll give Wolf that Whitey was of a violent disposition. It still doesn't make him of any value to the FBI. What then is it the FBI needed?
It's Flemmi with his access to the Mafia. It has to keep Flemmi happy. Wolf couldn't grasp the idea that Flemmi put in on the FBI: "You want me, you gotta take my partner."
The gangsters in the court caught on. They were paying close attention to all that was happening. That's how gangsters survive: know what's happening around them and figure out how best to work it to their advantage.
They knew Whitey was Mr. Nobody back in 1975 but they also knew if Judge Wolf fell for the idea he was Mr. Big they'd do nothing to persuade him otherwise. John Martorano particularly figured two things: if Flemmi was a life-long informant he was weak, he couldn't take the heat of prison and would probably start ratting on others to get himself a deal.  If he did, Martorano knew he'd be facing a death sentence.
He also saw the prosecutor lusted after Whitey more than Flemmi which is probably one reason Judge Wolf was led astray like a lost lamb. Martorano  knew he had to get a deal for himself and implicating Whitey was the key to freedom. Wolf's inability to understand the gangster mind sprang Martorano even though he murdered 20 people. Wolf, aided by a smiling Martorano, using facts that did not support his conclusion made Whitey into a major villain before his time while impugning the integrity of FBI agent Connolly who recruited him.