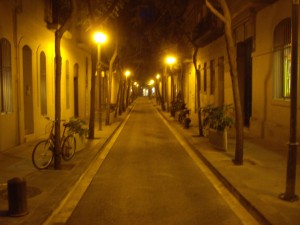 A real criminal gang would be the Mafia although it lacks an outward symbol. Those you see with motor cycle gangs. The Hells Angels have leather vests with lettering "Hells Angels Boston." You don't see Mafia vests "Mafia Patriarca Family." Even though it doesn't have one no one doubts it is three or more guys associated for criminal purposes.
One thing the Mafia does is extort tribute from folk. Some small shop owners or big independent businesses have to pay a fee to operate their legitimate businesses; some other ethnic groups running illegal operation such as booking have to pay it to stay in business; some unions have to have its members feed the Mafia's avarice to keep them safe.The consequences of not paying are dire.
In the Boston area one group that funneled money to the Mafia were the Jewish bookies. Early on a couple of Jewish bookies who balked at its demands were killed, Unlike in New York City where the Jewish criminals  were as tough and as feared as the Mafia and would have fought back, in Boston they protected themselves through payment. Clearly you would not suggest they were part of the Mafia,
Lots of folk paid the Mafia to stay in business. But you wouldn't suggest these victims are members of the Mafia even though some were criminals themselves. You could not get away with it because the Mafia had a closed membership of men with a common ethnic background and an initiation ceremony like the Hells Angels.
Coming back to the Winter Hill Gang (WHG) the feds in charting it out made it expansive to include people like bookies paying tribute and to people in one group with no association to the others. It could do that because like the Mafia it had no symbols like a vest. So in determining what was the WHG it is necessary to disregard the Feds charts.
The first question that should be asked is when did the WHG come into existence. That would be in late 1972 or early 1973. Prior to that it was the Buddy McLeans Somerville gang which became Howie Winter Gang after Buddy got gunned down. Its leader was Howie who had three close associates, Joe McDonald, Jimmy Sims, and Sal Sperlinga. They were mainly into hijackings, extortions, and waterfront thefts,
The first time it could legitimately be called the WHG was when Whitey needed Howie's protection and the murderous John Martorano started to hand around with Howie at a garage in a section of Somerville called Winter Hill. Martorano with his Mafia connections introduced them to Jerry Angiulo's Mafia and did some murders for them. The group added another member, an FBI too echelon informant (TEI) who was fond of murdering people like Martorano, Steve Flemmi in 1974.
From 1973 to 1978 the WHG existed under the leadership of Howie Winter. After Flemmi arrived he and Whitey became close. That gave Flemmi the opportunity to persuade Whitey that he too should become a TEI which he did in 1975. In 1978 or early 1979 the WHG ceased to exist. Howie was imprisoned, Sperlinga was murdered, McDonald and Sims went on the lam, and Martorano fled when he was indicted in the Race Fixing federal case.
What was the WHG now consisted of two men, Flemmi and Whitey. Two men do not make a gang. They left Winter Hill for the North End and when chased out of there by the State Police they ended up at a liquor store in South Boston. No longer could these two men, both FBI TEIs, be considered a gang. They were two protected thugs who by themselves went around extorting folk and having them pay tribute.
I suppose if you wanted to chart them out as being a gang you would include on the chart the FBI agents who worked to protect them. But for all practical purposes from 1978 until 1995 when Whitey fled and Flemmi got locked up there was no WHG but a couple of vicious hoodlums.
You would think otherwise from all the publicity about the WHG that consumed the Boston media. The use of word "terrorize" in connection with it made it appear like a Godzilla tearing away at the innards of the city. That though is the Boston media, never letting the facts interfere with a good story.