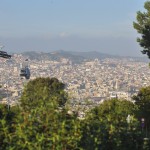 J. Edgar's long reign taught us one fundamental thing.  It is a bad idea having one person in charge of an investigating agency for 48 years.  Some called him the closest thing to a dictator America has ever seen.  We will never know the extent of his evil doings because his secretary. Helen Gandy, who had worked with him for 54 years, and close friend and daily companion of over 40 years, Clyde Tolson, took control of all his files and destroyed them.
Once J. Edgar was no longer in power the FBI had to adjust to his  absence.  As expected, there were several pretenders to the throne among them Mark Felt, also known as Deep Throat.  Seeing the FBI vulnerable some in Congress ginned up enough courage to investigate it.  The result was the formation of the Church Committee.   The FBI was so revered that the idea Congress was thinking of looking at its actions was called treasonous by some.
The Church Committee's report told of years of abuses by the FBI.    One thing that came from it was a recommendation limiting the term of the FBI director to 8 years.  Legislation was enacted limiting it to 10 years.  We did not want to see another J. Edgar even though it is uncertain his spirit has ever gone away.