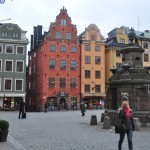 I'm trying to go back and reconstruct the 75 State Street story which some (many?) have used to suggest Billy Bulger is corrupt.  Billy served from 1960 to 1970 in the House of Representatives, from 1970 to 1996 in the Senate and of those years as the longest-serving president of the Senate from 1978 to 1996, and as president of the University of Massachusetts from 1996 until 2002. Most of those who suggest he did something corrupt while in public office for over 40 years point to the 75 State Street story.
I've already stated there was no extortion involved in his actions. Harold Brown could not be extorted. Two U.S. Attorneys and Attorney General Scott Harshbarger concluded no crimes were committed after their investigations.
Reviewing the event something really stood out for me. The Boston Globe went all out to hammer away at this story day after day pushing a one-sided story which demonized Billy at every opportunity taking the self-serving pleadings of Harold Brown as gospel, and the position of Billy as suspect.
In my research I came across an article by Gerard O'Neill one of the reporters who kept pressing the 75 State Street matter. This article was written on July 21,2003, almost 15 years after the story broke.