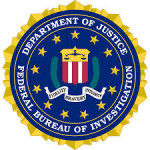 Here's what the FBI is really about. James Crawford and Fred Davis. Two retired FBI agents who had the misfortune to be assigned to the Boston FBI office during the late 1970s and early 1980s, Two well spoken witnesses, totally credible, who had no agendas. They were subpoenaed to testify; they appeared in court and swore an oath to tell the truth to the best of their ability; and that's what they did.
They didn't suffer memory lapses, they didn't seek to please one side over the other, they simply did their best to answer the questions asked. The spoke with authority. It was like a breath of fresh air coming into the court room.
The only problem I saw with their testimony is that they seemed to have been called to testify in the wrong case. I couldn't leave the overflow press  room until the end of the day since I had to wait until the camera gave a shot of the whole courtroom so I could see who was the defendant. When I saw Whitey standing at counsel table I was relieved, I thought somehow the defendant had morphed into imprisoned ex-FBI agent John Connolly. Seriously folks, the evidence was better suited to a trial against Connolly than against Whitey.