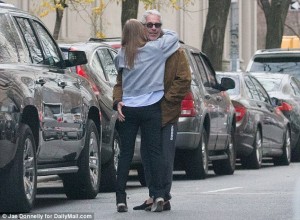 All we can know at this time is that there is a mutual friend, a person called Jeffrey Epstein, seen in photograph which was on the Daily Mail, who has been mentioned before in this blog, who may have played or be playing a major role in the relationship between the Clinton camp and the other camp, that of Donald Trump.
Jeffrey is known to have had a relationship with Bill Clinton. Bill said of him back in the days before he became wealthy himself and depended on him to give him a jet to fly to Africa:. "I especially appreciated his insights and generosity during the recent trip to Africa to work on democratization, empowering the poor, citizen service, and combating HIV/AIDS."
After that Bill would use Jeffrey's jet called the "the Lolita Express" on many occasions that he could have been called a frequent flier. The plane logs of the trip showed that Bill was traveling with an actress in softcore porn movies.  There was also another woman who Clinton traveled with over a dozen time who some allege had provided underage girls to older men for sex. The plane got the name from locals who watched as "numerous girls were allegedly taken to [Jeffrey Epstein's] 78-acre Little Saint James hideout in the US Virgin Islands."
Jeffrey likes to tell people that "I invest in people — be it politics or science. It's what I do." We know when Jeffrey invests in something he buys it. Jeffrey said this of Bill:"He's the world's greatest politician." It seems with his fondness for "investing" in people one can only question whether he has taken Bill on as part of his retinue. Maybe he has also invested in Hillary. We already know he invested heavily in Professor Underwear, Alan Dershowitz, aka Dersh Ball.
What is frightening about all of this is that not only is Jeffrey friends with the Clintons, he has another admirer. That is Donald Trump who had some nice words to say about him. Back a little over a dozen years ago he could not stop himself:  "I've known Jeff for fifteen years. Terrific guy. He's a lot of fun to be with. It is even said that he likes beautiful women as much as I do, and many of them are on the younger side. No doubt about it — Jeffrey enjoys his social life."
As for Jeffrey Epstein, who is a billionaire and buys people I suppose the best way to sum him up is by quoting from this article:
"Epstein pleaded guilty in 2008 in Florida to one count of soliciting underage girls for sex (and one count of adult solicitation), for which he served just over a year in county jail. But sprawling local, state, and federal investigations into the eccentric investor's habit of paying teen girls for "massages"—sessions during which he would allegedly penetrate girls with sex toys, demand to be masturbated, and have intercourse—turned up a massive network of victims, including 35 female minors whom federal prosecutors believed he'd sexually abused. He has reportedly settled lawsuits from more than 30 "Jane Doe" victims since 2008; the youngest alleged victim was 12 years old at the time of her abuse."
This is the type of man with whom Bill Clinton and Donald Trump maintain a relationship. They are not alone. In 2003 the Harvard Crimson noted that Dersh Ball, who called Jeffrey "brilliant", was among his "bevy of eminent friends that includes princes, presidents and Nobel Prize winners. . . . "  The article also mentioned that Epstein served with  Larry Summers, secretary of the Treasury under Clinton, as well as Bill Clinton on the Trilateral Commission founded by David Rockefellow and the Council on Foreign Relations, "two elite international relations organizations."
I noted it gets murky at this point – the secretive Epstein with his enormous wealth and friendships with "princes, presidents and Nobel Prize winners" who is admired by both the Clinton and Trump camps may be behind the plot that is becoming more obvious each day whose eventual goal is to put the Hill_Billy duo back in the White House. Donald Trump is playing a major role in all of this either wittingly or unknowingly. Is Jeffrey Epstein pulling the strings?