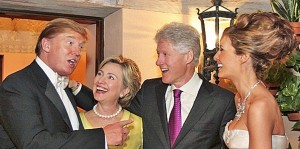 Trump as I noted is either a Manchurian candidate in which case he has been planted in the race; or he is in the race thinking that he has a chance to win. I find it hard to believe the latter is the case because a simple perusal of our past presidential elections show that those who appeal to our most base motives lose. Americans vote on hope not hate. No candidate can alienate a significant group of voters and expect to win. Under either circumstance it is clear that if he is still in the race in November he will be the major factor in the win of Hillary and Bill Clinton.
What makes clear to me that Trump's in the race to make sure that the Hill_Billy team wins the election are two things: his outrageous statement designed to alienate large minority groups to cater to a small bunch of right-wing voters on the outside chance he will get the nomination; but mostly, his the ever-increasing war of words between Hillary and himself.  It makes no sense for Trump to be after her when he has yet to get the nomination. It is hard not to believe that these are not planned scenarios to dupe the voters.
Always keep in mind Hillary's unfavorability rating. Now keep in mind the American desire for fair play. The game between her and Trump is to have Trump attack her. Hillary acts the victim of Trump and turns his attacks on her into gems for her candidacy gaining more people to support her who resent the unfair attacks.  Why would Trump be taking these shots at her which he should know helps her unless that is his intent?
I suppose you could argue that attacking Hillary will gives Trump a greater share of the voters who hate Hillary. I don't buy that. Those voters are already in Trump's camp. He gains nothing by his attacks while helping her along. That spells conspiracy to me.
If Hillary is worried about Trump she would not be in a war of words with him at this time. She is deliberately elevating him in the eyes of the public. Remember Hillary is all about pretend and con.  Her hope is that by acting as though she is afraid he becomes a candidate will heighten his standing among the Republican electorate.  When Jeffrey Epstein called Bill Clinton the master politician this is an example of his work.
The Republican party has been maneuvered into a corner by Hill, Bill and Trump. How can one not wonder whether the "brilliant" pedophile Jeffrey Epstein who is friendly with both camps is behind this. We know the Clintons were lending out the Lincoln bedroom in the White House to their supporters. Are we to imagine that Jeffrey will be allowed to use it for his dalliances with 14-year-old girls?
The situation has reached the point where the Republicans have to give him the nomination. This gives the presidency to Hillary. It is clear that if they deprive him of it he will turn around and run for the job as an independent. I know he said he would not do that but you (and the Republican big wigs) know he will. He will allege they did something or other wrong which relieved him of his obligation not to run.
As an independent he will take along with him many of the people now supporting him who actually think he believes his outrageous statements about other people like immigrants and Muslims. They will feel good voting for a man they think has the same deep felt biases as themselves. They will never understand how they have been victimized by this grand scam.
We do know this. Bill Clinton will soon be out on the campaign trail for Hillary. Right after Hillary's announcement for president, the every scheming Bill called Trump in late May to talk to him in a "private conversation" about politics. Shortly after that call Trump decided to get into the race although he said he had already made up his mind to do so prior to Bill's call.
Trump will continue to assault her turning her into a victim rather than the villain that she is. She will fight back with crocodile tears. Sadly, there is now no way that Hillary can be stopped if Trump is not stopped first.
Hillary, Billary, Sought
To make Donald Trump hot
He burst into fire
And soon did expire
The Hillary, Billary, Plot