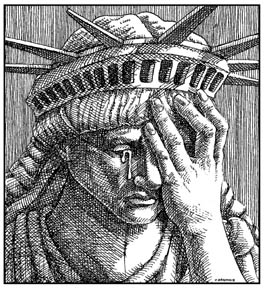 Roger and I went to Albie's wake and expressed shock that someone would poison Alby.  We expressed our sorrow to his grieving widow who much to our surprise called us a pair of bastards. An even greater one came as we walked outside and were met by a handful of cops and arrested.
It turned out we made one mistake. We did not know about the video camera in the diner. It showed us doing the dirty deed so now we're in the slammer. We're not alone, though. I figured I'd tell the story to the cops hoping to cut myself a break but all I managed to do was get Spike and Jimmy arrested also.
The thing I can't figure out though is why we are all charged with murder by gun – that is we are being charged with being armed with a gun during the commission of the murder. Can you believe it? All Spike did was suggest it three weeks before we poisoned Albie; Jimmy didn't want anything to do with it two weeks before; we decided not to use guns yet we are all charged with carrying a weapon during the commission of the murder.
Does it make sense? Why it makes a difference is the punishment is increased if we are found to have a weapon during the commission of the offense. How can you have a weapon when you poison a guy and leave the weapons home?
As I've often said, the law is what the judges say it is so here's what the judge said.
To be charged with carrying a weapon all that is needed is "the defendant carries any weapon or firearm at any time during the commission of a felony."
Therefore, "The murder began when [Spike] told [Jimmy, Roger and me] to "take care of" [Albie] and it ended when Albie was actually [poisoned]. The judge went on, "The defendant[s] acts occurred during the commission of the completed crime of second degree murder."
It was surprising to know that the commission of the act of murder began in Chicago three weeks before the poisoning took place in Boston and any act during that time was part of the commission.
Spike who suggested we take care of Albie got jammed in because when he met us in Chicago he took Roger's gun and put it on a shelf, he was deemed to have carried it. Jimmy got jammed in because he took the gun Roger handed to him and gave it back to him. Roger and I because we carried the guns but decided not to use them. It all makes perfect sense to that judge.
The problem I have with it is that I was tracking Albie around during a lot of the three-week period. He was fine. It didn't look like anyone was trying to murder him. How can the judge say that when he was eating those hot dogs up at Sullivan's a murder was being committed on him?
As I said earlier I may be dealing with common sense but that's apparently not allowed to come into the courtroom doors. What's more scary, five other judges came to the same conclusion that an act committed three weeks earlier over a thousand miles away was committed during the poisoning of Albie.
Remember I'm not talking a conspiracy but the actual crime of murder. How any judge can conclude it was committed three earlier in another state than where the murder takes place – you know that even though Albie was not in Chicago when we talked about murdering him that murder was being committed upon him – sort of jumps the shark in legal reasoning.
The lesson to be learned is that if the judges want to get you they will, common sense be damned.