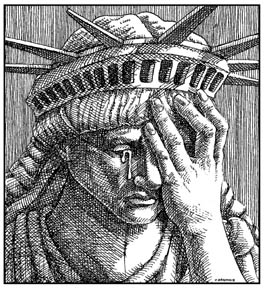 For a while now children have been coming to America unaccompanied by a parent. Faced with that about two years ago the Feds started rolling back child protection policies meant for these minors fleeing violence in Central America. Those responsible for protecting our borders had to decide what to do with those children apparently numbering close to 180,000. They opted to give them out to people called adult sponsors. They were  supposed to take care of them until who knows when but certainly long after the cows come home.
The results of this grand scheme has just been learned. Almost 1,500 of those children have gone missing and are unaccounted for. This was discovered after the Feds made follow up visits to see how the kids were getting along. An investigation by AP in 2016 showed: "two dozen unaccompanied children had been sent to homes where they were sexually assaulted, starved or forced to work for little or no pay . . . "
The almost 1,500 figure is surely a gross understatement. it was arrived at like this. During last October to December 2017 people at Health and Human Services decided to follow up on some of the children the agency had placed with sponsors. They checked on 7,635 and found 6,075 of the children were still living with their sponsors, 28 had run away, five had been deported and 52 were living with someone else. The rest (1,475) were missing.
The 1,475 is almost 20% of those checked out. Assuming there have been 180,000 children who have been placed under this program and assuming 20% of them are missing then the better figure to be dealing with is 36,000. It's like the Town of Natick or Braintree simply vanishing.
Where some fear to thread is that these children left alone among strangers are easy targets for those engaged in harvesting body parts. There is a very lucrative market in the United States and elsewhere for these parts. How difficult is it to get one of these kids away from these people being paid to mind them when greater sums are offered to them?
How can the HHS report that so many kids are missing and leaving us in the dark as to what was done to the person who was supposed to insure the safety of the child. I get the impression an HHS person went to the caretaker's house and said "where is Jose Perez who was placed with you." The caretaker responded, "Gee, I don't know. He ain't here anymore." The HHS person, "okay, I'll mark him missing. Thank you. Oh, by the way can we send you another one?"
The government takes kids from safe environments, parcels them out to indifferent caretakers, and makes a half-hearted effort to see what happened to them. You'd hope that the lesson would be learned and better facilities and accommodations would be made available to ensure the children's safety.
Unfortunately, the opposite is taking place.
When I read about slavery one of the great horrors which was part of it was that one person owned another. (How would you like to be owned by someone else.) It was not just the person but all in the family of the person.  A slave mother's children also were property of her owner. The horror of being owned was doubly so when the owner had the right to take the children as they grew older and sell them to others. I could not imagine anything worse for the mother or the child. When I had kids I could not imagine the devastation I would have suffered had someone come and taken them away. That would have been the worst of the worst.
The only thing that would have made it worse would be if I knew my children were going to be put in a place where they would face great dangers and the likelihood of losing their lives. If I knew I could never see them again.
Today we know those unaccompanied children face great dangers. But what are we now doing to children who are arriving with their parents. Under the Trump administration we are stripping them away from their parents just as the slave owners did. But worse than them, we are sending them into a situation where one in five children seem to fall into the hands of evil people. When slavery was stopped the dividing of families stopped; now it is back where innocent children are taken from their mothers and placed into situations that have been proven dangerous.
To my knowledge we are the only nation in the world resorting to such barbaric behavior. There can be no justification in a civilized nation for destroying families and injuring children.  Matthew: 18:6 "But whoso shall offend one of these little ones which believe in me, it were better for him that a millstone were hanged about his neck, and that he were drowned in the depth of the sea."
Woe unto thee America!