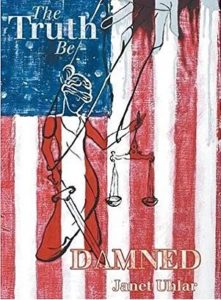 Janet Uhlar was a juror that sat in judgment of James "Whitey" Bulger during the penultimate act in the Whitey Saga. She sets out her experience from the first day she arrives at the federal court-house in Boston. She takes us through the early days of the trial going in, her mind a tabula rasa, we read along as she listens to the evidence and starts filling the empty slate based on what she is hearing.
It is an interesting trip to take with her. She would start to feel shocked at what she was experiencing the evidence as it came in. There were contradiction in what was being suggested; there were unexplained gaps. The trial bothered her so much she felt compelled not to let it go. It ran contrary to her idea of what in American justice was supposed to be about. She sought to understand more. What was she missing or was there something missing. She sought to talk with the parties involved. She would contact them by writing. Where possible she met with them to try to get a better understanding. She would eventually get in touch with Whitey and befriend him.
She wrote a book about her experience, "The Truth Be Damned". She is a good writer. The book is an easy read. It is not her first book. In the past she wrote about early American history which she also taught to high school students. Those interested in a juror's experience in court should find her story compelling; those interested in the Whitey saga will find much to turn over in their thoughts.
I first heard from Janet in a not-too-kind letter where she objected to something I had written on this blog. After that I met her for the only time. It had to be over three years ago. It was at a restaurant in Hyannis, MA where we had coffee. We spoke about our interest in the trial. She had visited Whitey by that time. I was interested in seeing what I could learn from her about it.
I too had hoped to meet with Whitey. I wrote to him. He responded telling me how to do it. I did what was suggested. I wrote back suggesting times I could go to Florida. I never heard from him again. In retrospect that was for the best. I really had no idea what I wanted to learn from him that I already did not have a good sense about. Uhlar's book would reinforce that belief.
She didn't offer much about her talk with Whitey which she would set out in her book. Some of what I remember is we discussed my time in the Norfolk District attorney's office working as DA Bill Delahunt's deputy, her family and a tragedy in her life, and little more. My memory is we talked about the subjects but the specifics had long gone. I could not quote one thing she said. If I were under oath required to  set out in detail what either one of us specifically said I'd be indicted for perjury because I couldn't do it.
Oh, yes, I do recall one thing. When I mentioned Delahunt she indicated she knew him. She said she went to him to get some type of assistance for her mother. He was very helpful. We parted after an hour or so on friendly terms. I would hear from her on occasion when she would comment on something I wrote on the blog.
(cont. tomorrow)