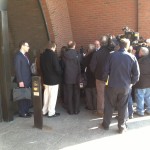 I'm back to writing about the recent discovery motion filed by Carney & Brennan (C&B). The set up to their argument which I mentioned in Redux I is the Government has a pattern of making deals with top level criminals and then denying they made the deals. That through AUSA O'Sullivan of the Department of Justice (DOJ) made a deal with Whitey. The basis of the deal was not based on him giving information. In other words Whitey was not to become an informant nor was he ever an informant.
C&B don't tell us what the quid pro quo is for the deal. We don't know what the DOJ wanted from Whitey to take this extraordinary step of offering immunity. The mystery endures.
I've speculated if there was a deal with O'Sullivan, which I doubt, the deal was he would work with the FBI to help keep Flemmi as an FBI source. He'd also need to protect Flemmi's back. And, most importantly, buck him up.
No one doubts Flemmi's value as an informant. Flemmi was providing inside and ongoing information against the Boston Mafia. His Italian roots opened the door to that mob through his long standing Roxbury friendship with Larry Baione the top enforcer for the Boston Mafia. He was also a close friend of Frankie Salemme who would become head of the New England Mafia.
Here's my take on the deal. Flemmi may have been getting cold feet. We've seen he likes to murder people. We've read of the gruesome manner in which he'd desecrate the bodies of his victims gleefully yanking out their teeth.
Yet, when it came to facing the death penalty in Florida or Oklahoma he ran into the Government's arms seeking succor. A tough man as long as he's carrying and his victim's unarmed. He easily murdered others but shook in his boots at the thought he might be executed even though he was an old man.
O'Sullivan was relying heavily on Flemmi. He might have sensed this, or was told flat out, that Flemmi was turning yellow. O'Sullivan was overseeing one of the highest priority Mafia investigations in the country. He couldn't let that happen at such a critical point so he enlisted Whitey's help.
I pointed to the move into the North End from Somerville as a basis for showing that. The last place Whitey of South Boston (Southie) wanted to go was onto the home turf of the Italian gangsters. Last week we read how Larry Baione offered: "I feel we should go all out every family get together and kill the Irishmen." 
There is no doubt Whitey was brought up on the Southie lore about the Gustins. Its leaders, two powerful Southie Irish gangsters, ventured into the North End to make peace. Those Italian thought like Baione. They murdered the duo.
Whitey would need a powerful incentive to make that move. He'd need some huge guarantee. He must have received it because he and Flemmi moved their operation from the safety of Irish Somerville to the not-so-safe Italian North End shortly after they took over the Winter Hill gang.
The meeting with O'Sullivan is alleged to have happened about that time. The move had to be done at the behest of the FBI, otherwise it made no sense. O'Sullivan and the FBI had targeted both Gerry Angiulo's and Larry Baione's offices.
Putting Flemmi within walking distance of those offices gave the FBI eyes, ears, and a nose right under the tent. By January, 1981 electronic bugs would be installed in those North End locations. The evidence seized would eliminate Angiulo's gang along with Baione.
Flemmi was worth his weight in gold to the Government in its war against the Mafia. Maybe that's why it let him keep a substantial part of his assets when he pled guilty.
What C&B seem to be saying is Whitey wasn't an informant. He was working for the US attorney's office and the FBI in another capacity. They could not be suggesting, if they did no one will accept it, that O'Sullivan made the immunity deal with Whitey and got nothing in return for the Government.
They seem to be hinting that he's sort of a double agent. He once described himself to a DEA Agent, "you're the good good guys, I'm a bad good guy." Isn't that a double agent?
If he's a double agent how does that change anything? Aren't we only playing with semantics? He's doing the same thing as an informant. He's still betraying others in the underworld.  If whatever he says he was doing and it had something to do with enabling Flemmi to be an informant, that makes him not much different from Flemmi?