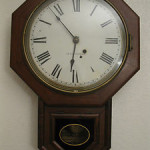 Yesterday I began to write about Carney & Brennan's (C&B) renewed motion for discovery. I stopped at the point where I noted Stevie Flemmi's assertion that David Margolis the associate deputy attorney general of the US who has been with the Department of Justice (DOJ) for 48 years has ties to the Mafia.  I scoffed at Flemmi's allegation as another one of his many lies and rejected it out of hand.
I was caught up short when some who comment on this blog and who keep me in check noted I was jumping the gun defending Margolis.  (See comment section) They aver  just because Flemmi's tells the truth as often as a broken schoolhouse clock even that is truthful once every twelve hours. They suggest  that just because he has  been with the DOJ 48 years that did not make Flemmi's assertion he was a Mafia plant wrong.
Yes, 48 years in a job is not necessarily a good thing as we saw with J. Edgar Hoover who seemed to have become an untouchable. We're all familiar with the stories of how a grim Richard Nixon told his staff he was having Hoover come to his office to tell him he was going to remove him as director.  Hoover arrived for the meeting carrying a handful of dossiers. A short time later a smiling Hoover and Nixon came out of his office. After Hoover left Nixon said he'd changed his mind.
Those dossiers and many others were part of Hoover's secret files. They were carted out of FBI headquarters within days of Hoover's death by Helen Gandy who was Hoover's secretary all during his term as Director. She and Hoover's friend Clyde Tolson went through them and destroyed each one concealing forever Hoover's dirty secrets.
So 48 years really proves nothing as to a person's  rectitude. Still I don't accept Margolis has a Mafia connection. Although it does appear he is the enforcer of the mandate "Don't Embarrass The Family" within the Justice Department.
One person referred me to a blog discussing David Margolis  called emptywheel. That blog noted a National Law Journal article about Margolis that called him Yoda noting no one takes him on because it is a losing battle stating: "Margolis cut his teeth as an organized-crime prosecutor, and he often uses mob analogies in talking about his career at the Justice Department. When asked by an incoming attorney general what his job duties entailed, Margolis responded: "I'm the department's cleaner. I clean up messes.""
The emptywheel article concludes: "Further views into the professional soul of David Margolis, or lack thereof, can be found from Jeff Kaye, Scott Horton and more Scott Horton. So, the in-house "Yoda", who considers himself the "department's cleaner" is the guy the DOJ put in charge of protecting the American public from the virulent malfeasance of actors such as John Yoo and Jay Bybee, not to mention all the other cases that courts and citizens have been able to get no action on over the years. It seems David Margolis has his own institutional interests that present an appearance of conflict with his duties to protect the public from malevolent lawyering by DOJ attorneys, especially high ranking ones. Pretty much explains everything."
C&B in their motion also talk about Margolis. They note that discovery is now "even more relevant in light of the Government's recent filing of the affidavit of AUSA David Margolis . . .  and the likelihood of a pretrial hearing on the question of immunity . . . . so  that [Whitey] can respond to the Margolis Affidavit . . . ."
As you may recall the Government at the eleventh hour sneakily slipped into its filing opposing C&B's claim of immunity Margolis's affidavit without giving C&B an opportunity to respond to it. Judge Stearns's order denying the claim of immunity noted the government raised for the first time the issue of O'Sullivan's authority under DOJ rules to give immunity by using Margolis's affidavit so C&B must have the opportunity to cross-examine him.
The Governments last minute use of Margolis's affidavit backfire on it. Whitey's team noted that if the prosecutors can reach out to the DOJ when it needs help it should be able to get Whitey his discovery. When Whitey needs DOJ files the prosecutors say they can't get them because they are separate from the DOJ. Going on they say if they are separate there is no way they can "assure the Court that Department records were adequately reviewed or provided."
C&B argue further the prosecutors are taking a "trust us" attitude. Whitey is supposed to trust those prosecuting him "to determine what is relevant to his defense." They note Margolis's affidavit is part of the "trust us" posture. Margolis averred he was O'Sullivan's boss.  If O'Sullivan requested immunity he would have done it through one of Margolis's deputies and "as far as I know" he never did.  Is Margolis guessing at this? Did he talk to these deputies? Who were they? Isn't Whitey entitled to know who they are and what they knew?
C&B finish with Margolis by stating: "The "trust us" approach is pushed to an absurd extreme in the final paragraph of the Margolis Affidavit: "I am advised that a thorough search of the records of the DOJ and the FBI disclosed no documentation that James Bulger was ever actually authorized to engage in any criminal activity." (Margolis Aff., ¶ 9). Margolis does not identify who "advised" him nor does he elaborate on these individuals' basis of knowledge. The Government merely submits this hearsay-based conclusion without any context or detail. The defendant must now trust not only Margolis; he must trust anonymous employees of the Justice Department to correctly identify for him evidence favorable to his defense. This Kafkaesque arrangement does nothing to protect his constitutional right to exculpatory and material evidence and the right to a fair trial. . . .  James Bulger does not trust the DOJ to select for him the evidence that he may use in his defense . . . ."
Sorry for the diversion. Blame those who comment here. I'll get back to the other assertions in C&B's discovery motion after the weekend. But for now we can salivate over the thought of C&B cross examining Yoda.