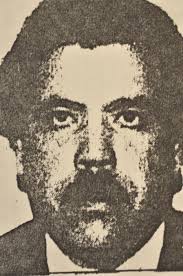 That's one half the story. Foley's half is that after making him feel he was suspected they then made him believe Naimovich was the leak. Foley was a young trooper at the time. He was being used and abused by Ring.
He and others in his group which  were under Mattioli diligently investigated Naimovich. They would manage to twist his relationship with an informant into something criminal. That's another long story which I have written about before.
While Foley was doing that, Ring who knew he set them off after Naimovich wrongfully did nothing to stop them. He knew the source of the leak was a secretary in their FBI office but kept quiet about it. Naimovich would be arrested by Ring and Mattioli while at work in a manner intended to totally humiliate him. He would be acquitted at trial in Boston's federal court. You know how innocent you must be to be acquitted there. Trooper Steve Lowell and I testified for him.
The other half is that Foley and his crew were doing Naimovich when they should have been working on doing Sarkis and Berger. I was overseeing an investigation where my guy in charge who had led us right up to the top of the organize crime pyramid was being investigated by half the guys working for him. The reason we are told you cannot serve two masters is shown by this where on behalf of the FBI the state police were undermining a state police investigation.
Ring's squad had John Connolly who would testify against Naimovich and Nick Gianturco who worked closely with Foley. Ring, nicknamed Pipe by Whitey, Connolly and Gianturco socialized with Whitey and Stevie. Weeks said he had been gifts by Whitey for them which he gave to Connolly. Gianturco admitted that he took the gifts.
Step back and consider what had happened. The FBI organized crime squad, C – 1, was protecting two vicious criminals, Whitey and Stevie, as top-level informants. Its agents learned of a Norfolk County investigation which was being conducted with the State Police Special Services Unit that involved long-term electric surveillance which had led them to install electronic surveillance on the offices and telephone of two other top gangsters. They knew that the state trooper leading the wiretap was John Naimovich. They set up a phony reason to cause the State Police to investigate Naimovich. Their intent had to be to impede the investigation into Sarkis and Berger.
Why the rush to get Naimovich? Nothing would have changed had they let my investigation proceed. Was the FBI also protecting Sarkis and Berger? Were Sarkis and Berger top-level informants? Or, were they protecting Whitey and Stevie knowing that if we continued we would be getting information against them?
I would like to think this is all about the FBI. That It has nothing to do with the Justice Department, But I know that Assistant U.S. Attorney Jeremiah O'Sullivan lied to me about Naimovich's involvement telling me after I called him when I heard Naimovich had been arrest to tell him he made a mistake that they had evidence Naimovich was a long-term leak to the Mafia. That was the same line Ring used to trick Foley.
I would not know that O'Sullivan personally met with McIntyre the witness against Naimovich. When arrested McIntyre, who was Naimovich's informant, said Naimovich did nothing wrong. O'Sullivan then hammered him telling him unless he came back with a different story they were going to lock him up for many years and take away all his assets. He decided to save himself. In the grand jury a juror listening to the tape of conversations between Naimovich and McIntyre asked if they had some sort of relationship. O'Sullivan lied to the juror telling him no while he knew that there was an informant relationship.
I sometimes think Whitey's lawyers use too wide of a paint brush when they suggest corruption beyond the FBI and into the Justice Department. Then I think of O'Sullivan's toady and near criminal behavior on behalf of the FBI and wonder. O'Sulllivan would testify before a Congressional committee that he feared the FBI.
I want to give the lawyers in the Department of Justice a break because the main corruption that continues to this day is in the FBI with its Top Echelon informant program where some criminal operations are protected and in protecting them they are also destroying operations against other criminals. But are they doing the same things O'Sullivan did, knuckling people to tell lies to please the FBI.
The Naimovich jury could not reach a decision on the conspiracy indictment. The U.S. attorney said it planned to retry him on that. Naimovich was beat and tired. His fight was gone. An innocent man falsely accused sitting in court listening on as the government tried to bury him in prison for decades. FBI men sitting back like they did with Salvati knowing this was a farce and caring less that Naimovich faced this ordeal.
Naimovich was told if he quit the State Police the conspiracy charge would be dropped. He did. He felt totally betrayed by his job and those on it after all his years of superb work. He would not take his retirement pay. His friend Charlie's wife who saw him at a cookout a year after his acquittal said he looked like a shell of the man she once knew. He would die not long after that. The wrongful wound inflicted on him killed him as surely as a bullet.
RIP John.