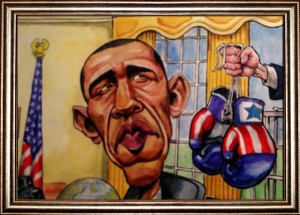 We have been reassured by the Director of the CIA that the type of attack that happened in Paris will probably happen again. It could happen in Boston, or New York, or in Washington, DC. CIA Director John Brennan said: "I certainly would not consider it a one-off event . It is clear to me that ISIS has an external agenda and that they are determined to carry out these types of attacks,"
He went on to add that: "I would anticipate that this is not the only operation that ISIL has in the pipeline."
That is comforting news. When Boston's Quincy Market is attacked Brennan can tell us we were warned it was coming. Is he trying to protect himself or us?
 You know ISIL, ISIS, IS, Daesch are all names for the terrorist group that calls itself the Islamic State. Most of the world calls it ISIS.
Obama said on Monday: "And the more we shrink . . . [ISIL] territory, the less they can pretend that they are a functioning state . . . We play into the ISIL narrative when we use routine military tactics that are designed to fight a state that is attacking another state. . . .  These are killers with fantasies of glory who are very savvy when it comes to social media and are able to infiltrate the minds not just of Iraqis and Syrians but disaffected individuals around the world."

All right Mr. President, I agree. When we take away their territory we stop their brutality to the people under their control, eliminate their training camps, damage their ability to spread their dastardly propaganda, deprive others of a location where they can join them, cut off their access to oil money and other valuables, and eliminate the idea that an Islamic Caliphate exists since that requires territory.
But Obama also said on Monday, "Let's assume that we were to send 50,000 troops into Syria. What happens when there's a terrorist attack generated from Yemen? Do we then send more troops into there? Or Libya  perhaps? Or if there's a terrorist network that's operating anywhere else in North Africa or in Southeast Asia?" 
Wait a minute, Mr. President. Aren't you showing a great deal of confusion here. On the one hand you are talking about shrinking their territory but on the other hand you suggest even if we do it will do no good because some terrorists can operate out of other area. I'm sort of glad you were not around on December 7, 1941. I can just hear you telling us that if we declare war on Japan the Germans might declare war on us so it is best we not do it.
To suggest that you do not want to go in and defeat an evil group such as ISIS which the CIA director tells us is planning more attacks because some "terrorist network" somewhere else may strike is a recipe for surrender. It's like telling a person with cancer that you won't treat it because it could occur again in another part of the body.
I'd suggest we deal with what exists and not with what ifs.
Last September Obama at the UN said:   "I have repeatedly said that our approach will take time. This is not an easy task, . . . This is not a conventional battle. This is a long-term campaign — not only against this particular network, but against its ideology."
Obviously It will take time. That is because that is the strategy the president is following. WWII would have taken a lot longer time if we worried that defeating one evil group would embolden another.
Obama is right on some things. We should never have gone to war when our nation was not threatened or attacked like we did in Iraq and Vietnam. Wars of choice are foolish.
He is wrong on other things. He is incapable of seeing sometimes you have no choice as when we were attacked on December 7, 1941, September 11, 2001, and now in Paris on November 13, 2015.
Over two years ago Obama set out  his strategy for fighting ISIS.  A year later it was noted:   "Promising airstrikes, refusing to commit ground troops, and offering a believable plan to "degrade and ultimately destroy" ISIL appeared to meet these domestic-political objectives. The only problem is that, one year on, the strategy appears to have failed on the ground.  Not only has ISIL not been destroyed, but the group continues to hold vast tracts of territory and possess the military means of waging a brutal war that shows no sign of abatement."
Obama noted on Monday: "What I'm not interested in doing is posing or pursuing some notion of American leadership or America winning . . . that has no relationship to what is actually going to work to protect the American people and to protect the people in the region who are getting killed and to protect our allies and people like France. I'm too busy for that."
Perhaps that is the problem. He's too busy to see his strategy adopted two years ago has failed. He is too stubborn to accept that it has and that things have changed. He's confused and making little sense.
I can only figure that Obama really wants one thing. That is to do nothing until he can get out of the job. Perhaps he thinks if we actually go to war and defeat our present enemy that has attacked us they may take back his Peace Prize. It is going to be a long 14 months.