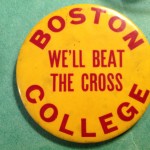 There are four rankings of colleges in the Boston area that I found.
MIT 5, Harvard 7, Tufts 25, Boston College 36, Brandies 74, Boston University 89, Northeastern 209.
Harvard 2, MIT 7, Tufts 28, Boston College 31, Brandies 32, Boston University 41, Northeastern 49

Business Insider (Top 50): 
MIT 1, Harvard 3, Tufts 38, Boston College 39.  


About.com (12 Top Colleges in MA not ranked – listed those in Boston area)
Babson, Boston College, Brandeis, Harvard, MIT, Olin, Tufts, Wellesley
The rankings seem to be fairly consistent with MIT, Harvard, Tufts and Boston College as the top four universities in the area.
Some have suggested that the idea that a Catholic University like Boston College being considered one of our top universities was anathema to the Boston Globe.  It preferred to ignore it and did it best to do so. A little proof of that suggestion came about last week.
In the Globe Magazine on Sunday, August 17, 2014, H.D.S.Greenway, who went to Milton Academy and Harvard and worked for the Boston Globe from 1978 to 2000, rising to become editorial page editor wrote:
"from my point of view, the Globe had an advantage that other provincial papers did not have. With Harvard, MIT, Tufts, Boston University, and other institutes of hIgher learning in its circulation area, international news was both appreciated and respected."