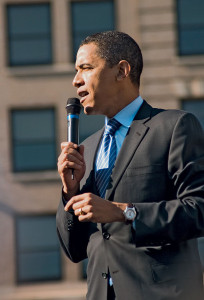 This I beheld or dreamed it in a dream.
I was in Washington, D.C. in line at the White House. I was down there to visit the National Archives and a couple of women friends, both lawyers who worked with me in Norfolk County, one J… now is at the State Department, the other S…, whose name reminds me of a couple of famous American generals is from Texas. She is only one of two women I've made friendships with from that state. The other, P…, I spent much time with on a boat trip across the Pacific from Japan to Hawaii. Those Texas girls have something special about them.
The women were busy during the day so I ended up in the line after being passed through inspection by the Secret Service. They knew as much about me as I did myself. They knew I was in the Marines, the schools I attended and the jobs I had, and even that I had this blog. One young agent asked me during the clearance questioning, "how was it in 'Nam'.?"
Fortunately I never set foot in that country. I did not want to explain why. So I shook my head and said: "bad, real bad."
As the line moved along slowly a young woman approached me. She identified herself and showed her credentials. She was also in the Secret Service. The next thing I knew I was following her down a corridor and through some doors and into what I recognized from photographs I had seen as the Oval Office.
She left me standing there. Then this man came across the room toward me. It wasn't until he got closer that I recognized that it was  President Obama..
He held out his hand and said, "come on in — have a seat — I only have a few minutes but I would like to have a word with you."
He motioned over to a couch indicating I should sit there. I went to it and sat down. I was definitely nervous: I'd never met a president before. Here I was with President Obama alone in his office. My mouth was very dry as was my throat. I was hoping I wouldn't pass out.
I had no idea what this was about. I expected him to sit in the couch opposite me. Instead he pulled a chair to my left and leaned forward. I had not realized what a tall man he was. His hair was tinged with gray. He was smiling that charming smile he often displays that put me slightly at ease but I was still quite scared. I could not figure out why I was lucky enough to be in the presence of the president all by myself..
Looking back it was probably frightened because I was afraid he was going to ask me about "Nam." I was angry  at myself for being a wise guy when I answered the young Secret Service guy earlier. What was I going to do? Keep up the pretense; or level with him? I really was confused over that since each choice was, as I said about 'Nam,' bad, real bad.
He sat down. He looked very relaxed. He had on a suit but no tie. His light blue shirt was open a couple of buttons at the top. He said: "I've heard you have a blog." Talk about being both relieved and stunned at the same time. He wasn't going to ask about 'Nam' which made me relax; he actually read something I has posted which caused me amazement. I had no answer. I looked back at him and I'm sure I had a goofy expression on my face.
He sort of laughed at the expression on my face saying, "don't be surprised — I haven't read it — I'm usually notified if someone with a blog comes through — if I have time I like to spend a couple of minutes talking to them. They give me a perspective I normally will not receive from others."
I nodded. He added, "I hope you don't mind taking a few minutes to chat."
Rather than nod. I grabbed my tongue back from the cat and said: "It's an honor to  — no not at all."
He smiled, leaned back, and said, "That's good – all I ask is you give me a candid and open opinion about me from what your own perspective or from what you  have heard from people who follow your blog."