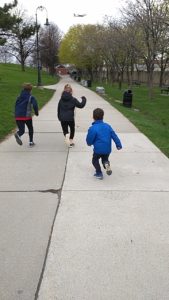 I knew something was up when my wife, Maria, told me that I had to go up to the Boston area on my birthday, Wednesday, May 1, because the two grandchildren of my son Ted, Theo and Cora, had wanted to see me because they had something special to give me. My other grandchild of my daughter Tatiana, Matty, had been at my house over the weekend before. They left Tuesday afternoon, the day before the birthday for their home in Connecticut, so I was told.
My birthday dawned and my wife gave me the traditional birthday gift which was "oh, it's your birthday, Happy Birthday." Many years before she said she didn't like to give gifts on birthdays.  She added, "by the way, we have to leave earlier than planned" telling me my son Matt had cleaners coming to his condo. We had to let them in at noon time because he would be tied up at work.
Off we went a little bit earlier than usual expecting the traffic at the bridge to tie us up but it didn't so we arrived a little bit earlier. When we got to the condo I noticed the back door was open. I figured Matt didn't trust us so he did that. I went to close it, looked outside, and there was my daughter who was supposed to be in Connecticut standing by her car. Then her son walked down from upstairs, waved, and joined her. She said very little other than she had to get somewhere fast. I had no idea what was happening.
Shortly after that a long white limousine drove up outside the condo with my three grand kids hanging out the windows. Their parents came right upon its heels. They handed me a 4 x 6  printed card that said: "Grandpa's Birthday Ride. A Trip Down Memory Lane."  It had a schedule of the day's events.
Maria and I climbed in. The three kids sat toward the front indulging in all the goodies that were put in there and enjoying the luxury of the vehicle. The first stop was Bertucci's.  Maria went in and came out with the pizza and other food. We ate as we journeyed on.
Over to and down Colombia Road as I pointed out sites I knew as a younger man eventually arriving in Andrew Square where I showed them where St. Monica's and the John A. Andrew School had been. Then up to Old Colony Avenue. I pointed to where my cousins lived, and the walkway to the park and then we pulled over.
Out we went heading for 18 O'Callaghan way in Old Harbor Village (now named McCormick Project) First stop was the archway which I used to climb up on. None of them could squeeze into the small space which enabled the climb. Although Matty, age 5, may have but he had a cast on his arm because of fracture he got the last time I baby sat for him. Theo and Cora were too big to slide in there.
We walked around and I pointed to my home and the houses of my friends and the places where we played. Then after a bit at Columbia Park (now Moakley park) on a playground we headed to Castle Island. They all heard the story how I caught my head in the gun slit when I tried to get into the fort so they wanted to see it. We stayed there a while. They enjoyed picking up the rocks and tossing them into the harbor and racing.
From there we drove by my second home at 47 Belfort Street, in Savin Hill, Dorchester. We then went up to the Woods over the bridge. We climbed to the top of Rock Hill. I told them about seeing the Navy planes swooping low overhead as they landed at Squantum Naval Air Station. Then off to Lars Anderson Park which wasn't part of Grandpa's upbringing but they like the playground there.
To top off this wonderful day we went to the Union Street Restaurant in Newton in which my son has an interest. We ate 'til our heart's content and talked about the day. I'll tell you I've never had a more enjoyable birthday thanks to my three children who asked what I wanted for my birthday and I said I just wanted to spend some time with the grand kids. I got to do it in spades.