From the Wall Street Journal:
"The U.S.'s ability to respond to infectious-disease outbreaks in China was already compromised by State Department budget cuts, according to current and former U.S. diplomats.
In 2018, the Centers for Disease Control and Prevention was forced to scale back or discontinue its work to prevent infectious-disease epidemics and other health threats in 39 foreign countries, including China. At its height, the CDC had more than a dozen programs in China, including an emerging-viruses program. Today, that presence is down to a handful of employees, most of them dedicated to influenza.
Plans for annual meetings between the CDC and China's Center for Disease Control and Prevention haven't been realized for three years, the current and former diplomats said.
"It's hard to know what the dynamic would have been with this thing showing up in Wuhan but when they were embedded in the offices of the Chinese CDC, they had these relationships with these doctors which were relationships of trust," Susan Thornton, a visiting lecturer at Yale Law School, said in an interview. "They would have been in on the ground floor.""
From the Daily Mail UK:
"Almost 800 people die of coronavirus in Italy in the past 24 hours taking country's death toll to 4,825 – with 53,500 now diagnosed in crisis-hit country.  Italy's death toll has skyrocketed by 793 to 4,825 in just 24 hours in the worst daily rise the country has seen yet. More than 53,500 people have been diagnosed with the bug nationally, up more than 6,500 from yesterday.
From the Wall Street Journal:
The rising tensions and severing of connections threaten to unravel decades of effort to improve ties between the two countries, said the Asia Society's Mr. Schell.
"What we're seeing in a very alarming way is we're almost snapping back to a pre-1972 state," he said, referring to the year President Nixon traveled to Beijing to meet with Mao Zedong and restore diplomatic relations. "I think we're getting closer and closer to that point where it will be very very difficult to reknit the fabric."
Willy Lam, a senior fellow at the Jamestown Foundation who worked as a journalist in Beijing through the 1980s, concurred, saying the hard-line nationalist stances adopted by both Mr. Trump and Chinese leader Xi Jinping threatened to push the two countries toward a new Cold War.
"Neither side will give in," he said.
From Michael Coudrey  @MichaelCoudrey
 NEW DATA: A French study has demonstrated evidence that the combination of Hydroxychloroquine & Azithromycin are highly effective in treating Covid-19. The patients enrolled in the study showed complete viral eradication around the 5th day of treatment.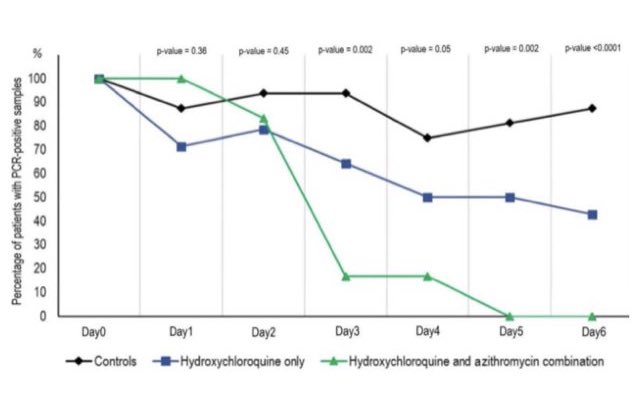 Trump Tweet Today: @realdonaldtrump at about 10.30 am
HYDROXYCHLOROQUINE & AZITHROMYCIN, taken together, have a real chance to be one of the biggest game changers in the history of medicine. The FDA has moved mountains – Thank You! Hopefully they will BOTH (H works better with A, International Journal of Antimicrobial Agents)…..  ..
.be put in use IMMEDIATELY. PEOPLE ARE DYING, MOVE FAST, and GOD BLESS EVERYONE!
From Wired Magazine:
 "It was simply when. It's really hard to get people to listen. I mean, Trump pushed out the admiral on the National Security Council, who was the only person at that level who's responsible for pandemic defense. With him went his entire downline of employees and staff and relationships. And then Trump removed the [early warning] funding for countries around the world."