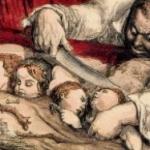 2 years ago the problem hardly existed. Now it is one of our main concerns. Has anyone stopped to ask why all of a sudden it came about? Has anyone looked at it and figured out that the way we have addressed it has only made it worse? Yes, we've become our own worst enemy and we persist in our wrongheaded way even though it should be abundantly clear everything we are doing only exacerbates it.
I write of this because two articles in the Wall Street Journal caught my eye yesterday. They relate to the problem which is a direct result of the Iraq War, the rise of the Islamic State, ISIS. No greater group of barbarians have existed in modern memory. These ISIS members have risen out of the ashes of our destruction of Muslim lands. Those 18-year-old fighting men were a mere 9 years old when we decided to war in those areas. The well from which they spring is great and deep and continually flowing. We seem stuck in the neo con belief that they way to defeat them is to continue doing what we have done in the past even though the result is today's debacle.
One article is titled "FBI Struggles to Identify Radical Islamic Recruits." The FBI director said it was having difficulty identifying Americans who join Islamic extremist groups. The article estimated more than 16,000 foreigners from 90 countries have joined ISIS, 2,700 from the West but only a dozen or so from the U.S. Obviously so few coming from a country of over 310 million people would be difficult to track.
But the thing is outside of a handful of Americans over the prior thirty years there was no worry of Americans doing this. Now there is and it seems that with the ISIS propaganda getting ever more slicker unless we address it in a better manner it could turn into a real problem here at home.
The other article points to how the FBI exacerbates any problems that do exist. We have a law that states anyone attempting to aid a foreign terrorist organization faces a fifteen year prison sentence. Planning to join ISIS apparently fits into the law.
In Illinois a 19-year-old man, Mohammed Hamzah Khan planned to fly to Turkey to join ISIS. He was taking along his younger brother and sister. He has been arrested before boarding the flight and charged by the FBI with violating the law. His younger siblings were not arrested and have yet to be charged. Here is a story about it. Apparently the FBI was tipped off by Khan's parents about the planned adventure which led to the arrest. Mohammed is now being held without bail until trial.
On one hand the FBI is having trouble identifying these individuals who are mostly young men or women, on the other hand the best way to identify them is to get information from people who are close to them, like their parents. But the problem is, if the parents think they are going have their kid locked up in the slammer for fifteen years, they are not about to tip-off anyone about the kid's planned flight.
Wouldn't it be better if the FBI got out in front of this. How about coming up with a program that involves the Muslim community that is particularly at risk of having its children radicalized because of our wars in the lands from which they have come. Advise the members of that community that the worst that will happen to anyone who is turned in for planning to join ISIS will be some type of community service without prison.
We must do more to ensure the Muslims who live among us are not alienated by our actions. We must make them part of the solution. One way is not to treat their kids like hardened criminals.
Aside from that, we need a "team back" in everything we are doing over there. You don't cure mistakes by persisting in them.