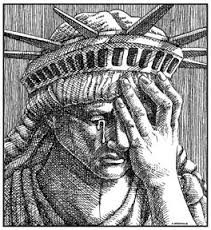 Donald Trump was asked whether he had any heroes.  He said no. He then went on to talk about his father and himself. Reading that I was inspired to compose this elegy for him done with apologies to Sir Walter Scott.
The use of the term elegy is as a "serious meditative poem." Samuel Taylor Coleridge wrote: "Elegy is a form of poetry natural to the reflective mind. It may treat of any subject, but it must treat of no subject for itself; but always and exclusively with reference to the poet. As he will feel regret for the past or desire for the future, so sorrow and love became the principal themes of the elegy. Elegy presents every thing as lost and gone or absent and future."
An Elegy Upon the Inauguration of Donald Trump
Breathes there the man, with soul so dead,
Who never to himself hath said,
"There's my hero and guiding light." .
Whose heart hath ne'er within him burn'd,
As to this one his thoughts had turn'd,
When walking through the darkest night.
If such there breathe, go, mark him well;
For him no Minstrel raptures swell;
High though his titles, proud his name,
Boundless his wealth as wish can claim;
Despite those titles, power, and pelf,
The wretch, concentred all in self,
Living, shall forfeit fair renown,
And, doubly dying, shall go down
To the vile dust, from whence he sprung,
Unwept, unhonour'd, and unsung.