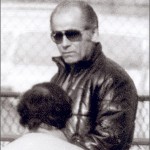 Has Whitey Bulger been indicted for being an infoRmAnT?  You'd think that was an issue if you sat in the court yesterday, or even the day before that or today.
Whitey's charged with racketeering with the underlying offenses being 19 murders. The prosecution proving he committed just two of them will carry the day for him to be convicted of that charge as a racketeer. Two out of 19, the odds are pretty good. Whitey's also charged with money laundering and drug dealing and extortion. He's pretty much admitted to having done these if we are to believe his lawyer's opening statement.
But from all I can see the prosecution is trying to prove he's an informant. It's like trying to prove he's a white guy in his mid-eighties who is in custody and is a vegetarian. It matters little to the issues before the jury. Why are we spending a whole day or two on trying to  prove it.
Because Whitey had decided he is not an infoRmAnT, it seems Wyshak thinks he has to prove he is one. If Whitey had filed a pleading in which he said he wasn't a vegetarian, would we have listened to a dietician or some other food expert going through his restaurant bills or grocery store purchases to show that he is lying. She'd testify he has never had a meal or purchased food that contains any animal products. We'd all say "so what!"
We know whether he's a vegetarian or not does little to help prove whether he murdered 19 people.  Yet the same thing applies whether he's an informant. You understand this because the jury could unanimously decide he was not an informant and still find him guilty of all the charges; or come to the same conclusion after deciding he was an informant; or be split six to six over whether he was or was not an informant and still come to a unanimous verdict. Just as it could do if Wyshak was trying to prove he was  a vegetarian.
Unless I'm missing something, none of this should have been introduced into evidence. It is all irrelevant to the charges. So it leaves me with the question, is Wyshak trying this case to a jury or is he trying it for the media?
Yesterday he spent the day putting in Whitey's informant records. To what purpose?  We'll never know if the jury concludes he was an informant or not, that is not its job and it will not be deciding that issue. The judge won't instruct the jury on that issue. If that's the case why is so great a deal being made about it.  Is Wyshak  confused as to the issues in the case? Has he thought through what the case is about or is he using the case for a secondary purpose, as the rubber match in his cases against FBI Agent John Connolly. Does he somehow think a verdict against Whitey will also be a verdict against Connolly?
Wyshak told the court yesterday he was not going to get caught up in the defendant's pretence that he was not an informant. Not Freddy. He is going to do all in his power to destroy any attempt by the man who'll rightly die in prison to claim that he isn't something which he clearly is. To what end?
Whitey should know the verdict's in on whether he was an informant. He was and for all time will be remembered as one even if Wyshak did not go through the unnecessary waste of time preaching to the converted.
Whitey's going to die in prison, that should be his fate, I'm sure he's going to be sent to the worst prison in America, ADX, which is where he belongs if half the things we've read about him are true. Two of the witnesses against him also belong there but that's another story.
Whitey allegedly said in court yesterday loud enough to be heard by others that "I'm not a fucking informant." Let him believe it. Guys like Whitey live in their own little world of delusion and visions of grandeur and importance which we can never enter no matter how much we try. I'm sure Hitler, Joe Stalin and John Martorano thought they were good guys. We knew what they were and no one took up trial time to prove that they weren't.
Wyshak should stop trying to enter Whitey's world and follow  down every false trail laid by the defense. He should stick to what the charges against Whitey are. He's got a good strong case and if the jury won't convict Whitey after they hear the evidence against him, especially the destructive birds of a feather theme, that he was an informant will not save the case.