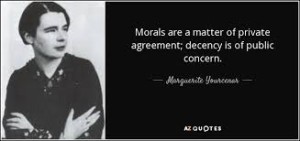 I like to think that the demise began when President Clinton abused Monica Lewinsky in the White House and his actions were openly talked about in the news media. How horrific it was to see the president of our nation telling a lie in front of millions when he said he did not have sex with her. The extent of his involvement with her was astounding. It led to a vote to impeach him. Despite this scandal he is now asking the people to let him go back into the White House.
But it didn't really begin with him. He was not the first to dishonor the office of the president by engaging in extra-marital sexual activity. As far as I know that belongs to President Kennedy who was at least able to keep his exploits out of public notice. It is said there was a tacit understanding that reporting his actions was not to be done; I suppose that was follow-on to the agreement not to report President Franklin Roosevelt's paralysis.
After the sordid Clinton the White House as far as I can tell returned to a place where presidents avoided tainting it under Bush and Obama. For that at least we can be thankful. But the tone set by Kennedy and Clinton has lingered on where we see the horrible specter that is occurring today where vile comments are being bandied about by vile candidates.
The puerile senator from Florida, Rubio, with his comment: "you know what they say about men with small hands."  Look at the video when he makes the statement. His audience is a bunch of young high school kids. Watch the reaction of the kids in the background when they understand from other kids the import of his statement.
One reporter noted: "Not even the best political forecasters could have guessed that Donald Trump's hand and genitalia size would become 2016 presidential campaign topics"
Then Mr. Really Crude, another aspirant for the presidency, had the ill-informed judgment to bring this up during a national debate. Holding up his hands he said: "Look at those hands, are they small hands? And, he referred to my hands — 'if they're small, something else must be small.' I guarantee you there's no problem. I guarantee."
Do you really want someone like that pig to represent our country after all we've been through? What does this tell you about his judgment? Remember Trump is the one who said of the billionaire sexual pervert Jeffrey Epstein: "I've known Jeff for 15 years. Terrific guy. He's a lot of fun to be with. It is even said that he likes beautiful women as much as I do, and many of them are on the younger side. No doubt about it — Jeffrey enjoys his social life."
The cancer of cruddy crudeness spread wildly. Congressman Stephen Lynch living in his narcissist Congressional bubble pushed the vileness by talking publicly about Mayor Walsh's small hands. Do you feel the crud creeping, crusting, and covering our country?
I recall the statement of attorney Joseph Welch who was defending the reputation of a young colleague at his law firm which was in Boston, Hale and Dorr, from the attacks of Senator Joseph McCarthy. He said: "Let us not assassinate this lad further, Senator. You've done enough. Have you no sense of decency, sir? At long last, have you left no sense of decency?.
Yes, decency. A now forgotten tradition of how we did things in America. It is defined in my unabridged Webster's Third New International Dictionary as:  "the quality or state of being decent." Decent is defined as: "3 a: free of anything improper or of suggestions of the immodest, lustful, or obscene: indicative or suggestive of virtue or propriety.:
The tearing down of our standard has brought us to the point where we Americans seem to openly accept the crude and vile politicians who despoil our youth and soil our children with their vulgarities and their lack of judgment.
Here is the question for the people of the United States: "Let us not assassinate this country further. You've done it enough. Have you no sense of decency? At long last have you no sense of decency?"