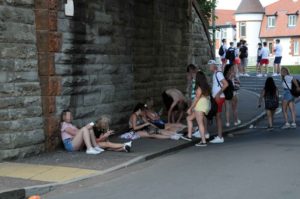 I've been away a bit. Baby sitting grand kids, household chores and generally trying to do other writing. I had no intention of posting but what I just read had me screaming. I felt like that when I read the list of crimes that Rachel Rollins the person who won the Democratic nomination for district attorney said would be the default position of her office. She listed crimes her office would not to prosecute when she becomes district attorney.
To begin, let's consider what a wise old judge Elijah Adlow a brilliant and long-serving justice of the Boston Municipal Court said: "the whole point of culture [is] to give everyone peace, quiet, and the right to enjoy life." He talked how essential it is for a person who works all day long to be able to go home and relax in the comfort and safety of his or her home. Let's also consider what Danny Ryan, sometimes called the mayor of Savin Hill once told me while we were standing in front of the State House and Scott Harshbargher was speaking. We were discussing crimes and he noted how important it was that what many consider to be small crimes be prosecuted. He told how difficult it is for city folk (having lived in the suburbs for many years I had forgotten this) when some guys gather on a corner at two or three in the morning playing their car radios loudly while others are trying to sleep because they have to get up for work. Yes, he noted, arresting people for disturbing the peace is important so that people can have a little peace and quiet.
Here are the crimes Rollins will decline to prosecute. Trespassing, Shoplifting, Larceny under $250, Disorderly Conduct, Disturbing the Peace, Receiving Stolen Property, Minor Driving Offenses,  Breaking and Entering into vacant property without causing damage, wanton and malicious destruction of property, threats excluding Domestic Violence, Minor in possession of alcohol, drug possession, drug possession with intent to distribute, resisting arrest without other charges connected to it, resisting arrest involving any of the other charges.
It sounds like Boston is going to become a version of the Old Wild West.
You want to try to run a business in Boston, good luck. You have a small store. A young lady walks in around 5 in the afternoon and starts helping herself to some of your goods. You call the cops. They come. They try to arrest her, she resists their attempt. They take her to the station and book her. I suppose they can hold her overnight. Will they be able to get a criminal complaint. I assume so. Rollings says the the DA's default position will be to dismiss the case. (Actually the DA should nolle pros the case.) The woman will walk – does she get to keep the goods? Can she do the same thing the next day?
What will be the effect on the cops knowing they are doing an exercise in futility. Isn't the idea behind arresting someone for a crime having them answer to the charges?
If you feel like a nice orange or apple, you can now walk into Whole Foods and help yourself. If you're crossing the street and a car is blocking the cross walk you can get a brick and break its window. You can then decide you are tired and lie down in the middle of the street. You can be joined by your friends who have helped themselves to snacks in Whole Foods. You can then hand out some heroin for your buddies to enjoy.
If Rollins is serious about this Boston is not going to be a pleasant place to live. I agree that sometimes too many small crimes are prosecuted but what she is talking about are not small crimes, they go to the heart of our culture. These are precisely the crimes that interfere with our peace, quiet and right to enjoy life.
I know little about Rollins. I hope she is not serious about this. There are better ways to do it. I remind her of the experience of many police department that if you tolerate the small crimes expect to get a great increase is more serious crimes.