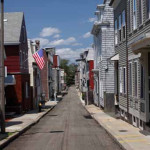 The law of unintended consequences discloses prosecutor Wyshak's animus. His words show his dark side. I watched a Dateline NBC video called "Crossing The Line." Its intent was to glorify Wyshak by condemning former FBI Agent John Connolly.
It starts off by hinting the Irish have an affinity for booze. It notes that in Boston the Irish went south and the Italians north saying they were "as different as dark beer and dark expresso." While the narrator is speaking the video shows a beer glass being filled with Guinness followed by a coffee cup of frothy expresso having a little milk added to it.
Right off the bat we see John Connolly. He says, "You have to understand the business I was in. I was in the murder and mayhem business."
A bit later we hear how Connolly successfully bugged the Mafia induction ceremony. Immediately following that,the narrator states "Connolly was honored by legendary FBI Director J. Edgar Hoover for his ingenuity and results." A picture is shown of Connolly shaking hands with Hoover.
The juxtaposition infers the honor related to the Mafia ceremony bugging. The picture of Connolly and Hoover is taken in 1968 at an FBI graduation ceremony. Hoover died May 1, 1972 before Connolly enrolled his first informant or had any results. The Mafia bugging was in 1989. Another little lie but tells of the program's bias.
Connolly will tell the imaginary story of Whitey saving him from being trounced on by some kids and equally fictitious story of the waterfront meeting where he says he recruited Whitey. The program says the deal with Whitey was that he'd give Whitey protection if Whitey helped him go after the Mafia. It tells us later Flemmi had easy access to the Mafia which Whitey didn't without the slightest idea its earlier reason explaining the deal made no sense.
We are told Whitey recruited Stevie Flemmi. It omits to mention Stevie had been giving the FBI information for over ten years at the time. Putting Stevie in the stable first would hurt the tale.
Flemmi is seen testifying. He stated he would get the information on the Mafia. He would give it to Whitey to pass it on to John Connolly.
The video did give those of us who have a deeper knowledge of things some good tidbits to chew.
There are two instances where the prosecutor of Connolly, Fred Wyshak, makes statements that are noteworthy. After the trial ends there is some confusion over whether the charge that Connolly was convicted on was barred because of the statute of limitations. Wyshak had to respond to the idea that Connolly might walk out a free man.
He said it wouldn't bother him if Connolly didn't serve another day in jail. All that was important to him was that a jury found Connolly criminally responsible for the death of Callahan. The jury had spoken.
Knowing the case, I said to myself what righteous nonsense. A Boston jury had already spoken. It found that Connolly was not criminally responsible for Callahan's death. I guess we're not supposed to remember that. Wyshak only cared for what a jury said as long as it said what he wanted to hear.
But the most revealing part is what Wyshak said was the cause of Connolly's downfall. I've told how I sensed at the Boston trial of Connolly the prosecutors seemed to be really after Billy Bulger who never committed any criminal act. Wyshak confirmed this.
Wyshak explained to the NBC reporter that what caused Connolly's dénouement was his "loyalty to South Boston and to the Bulgers."  That is Bulger plural, Whitey and Billy.
Hearing Wyshak say that my gut feeling Connolly was being scapegoated to get Billy was confirmed. Follow that statement through. You know Wyshak is a vengeful prosecutor threatening to indict family members to squeeze pleas or cooperation. You have to be absolutely positive that Billy must have led a totally impeccable existence if Wyshak who has had him in his sights is unable to indict  him for something, anything.
You know the first question Wyshak must have asked the gangsters who came crawling to him for a deal is, "What can you tell me about Billy Bulger." Neither Flemmi, who was Whitey's partner and would know of any connection between Whitey and his brother and have gladly exposed it; nor Weeks, who was Whitey's daily companion year after year and likewise would have thrown Billy into the fire to benefit himself, had anything to offer against Billy. Nor did any of the many other gangsters who had to cough up what they knew to get a deal.
We only heard a farfetched quadruple hearsay from Martorano about Connolly protecting Whitey because Billy asked him to do it. That had as much substance as smoke and broke down as easily as a soap-bubble upon a closer examination.
It is true that Connolly was loyal to Whitey but the FBI wanted him to do that. Had he been only been loyal to Billy he'd never had seen a day in prison.
And since when is being loyal to the values of South Boston something that is wrong. The blood of the brave kids from South Boston has been shed on every battle field in which America fought in greater proportion than our young warriors from almost every other section of America. That was done because of loyalty to those values. Perhaps Wyshak ought to go the South Boston Vietnam Memorial and read the names of some of those kids who were loyal to Southie.