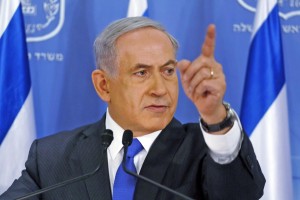 Netanyahu is sort of a tough guy who acts like he cannot be pushed around. He will do anything to stay in office as we saw with his stunt prior to the last election. He's a "my way or the highway type guy." He's not happy listening to opinions that run counter to what he is thinking.
He has probably been in office too long for his own good and the good of Israel. He has not changed as the world has.  He has kept himself in power by sowing fear and portraying himself as the one person who can protect Israel.
His biggest supporter is a guy from Dorchester, MA, named Sheldon Adelson. He's another tough guy who clawed and chewed his way to riches by working hard, starting one business after the other, never-resting until he finally hit the jackpot when he  involved himself in the gambling business buying the Sands Hotel in Las Vegaa and gambling casinos in other parts of the world.
Adelson also owns at least three newspapers in Israel which command over 50% of the Israeli readership. These all fervently support Netanyahu.
I heard this story once about Adelson and Netanyahu. I don't attest to its truthfulness. When I heard it I was reminded of the young Bulgarian lady named Annina who was about to be compromised by Captain Renault of the local police. He controlled what she and her husband, Jan, needed. Rick the owner of the Cafe where Jan had gone to gamble came to her rescue. He stood behind Jan who was sitting at the roulette table.  He told him to put all his money on a certain number; he looked to the croupier, gave him the nod, and lo and behold that number came up. Jan was about to pick up his winnings. Rick told him to leave it there, gave the nod, and he won again thus saving Annina's virtue.
The story is that Adelson took Netanyahu into one of his casinos. Netanyahu wasn't much for gambling but Adelson convinced him to put a few dollars on a roulette number. Sure enough it won. He told him to leave it there and it won again. When he did it a third time Adelson told him to pick up his winnings. Thereafter at dinner that evening Adelson convince Netanyahu he was a good gambler.
Adelson has a particular dislike for President Obama. He had suggested that to solve the Iranian problem we drop a nuclear weapon on Iran to show off our seriousness. Obama did not buy that. Feeling dissed and pissed, Adelson was determined to do all in his power to destroy Obama.
His chance came with the reelection bid of Obama. Adelson backed his opponent Romney. He reminded Netanyahu he was a good gambler so he should do the same thing. (Some say Netanyahu had no choice because he had tied his lot too closely to Adelson who through his newspapers can make or break him.) Netanyahu bit. He supported Romney against the sitting president. Romney lost. The gamble failed. A permanent chill came between Obama and Netanyahu, as one would expect.
Adelson who is a big financier of the Republicans convinced Netanyahu to double up on his loss rather than trying to patch up the differences with Obama. He arranged for the Republican Speaker Boehner to invite Netanyahu to address a full session of Congress to speak out against any deal with Iran. This was a way to embarrass President Obama on his home turf. Netanyahu again bit, he came and he thought he conquered. He didn't. He just further isolated himself from Obama who became more determined than ever to get a deal.
Netanyahu forgot the old adage that if you are going to strike at a king the blow has to be fatal. Just wounding him makes the retribution quite horrible. Obama could not openly strike back but he could close the door on his input into the thing he was most concerned about, the ongoing negotiations between the U.S. and Iran.
Netanyahu alienated the president of the United States and lost any influence he could have had in the negotiations. The advice he got from Adelson was bad. Adelson is more of a money bully than a politician. Had Netanyahu used his political instincts he would have followed LBJ's advise: "it is better to be in the tent pissing out than outside pissing in." 
How badly his gamble failed is seen in the deal that is reached today with Iran. Israel had forfeited its influence over the U.S.'s dealings. Had it maintained it then there would have been no deal.
A correspondent for the Guardian Peter Beaumont noted about Netanyahu: "He has been singing from the same song sheet for two decades warning in catastrophic terms about the threat of a nuclear Iran but – when it came to the crunch – world powers chose to go with negotiations and a deal not with the Israeli prime minister's dire warnings.. . . And despite a deal that appears far tougher than many had anticipated it is pretty clear now that no deal with Iran, no matter how tough, could ever satisfy Israel and certainly not Netanyahu. While the Israeli government has said it will continue fighting in the US Congress it is hard to see how that strategy will help Israel in the long run at a time when it is becoming ever more diplomatically isolated."
The best part of the deal is the U.S. will no longer be lured into a war with Iran. We've had sanctions against Iran since 1979. The world has not become a better place for them. It is time we try something different and as they used to chant: "give peace a chance."