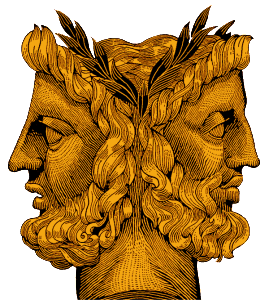 I got a call the other day from a friend who I'll call Hecktor. He reminded me that he was about to climb out of his seventies and over the hill into his eighties. He said he planned to invite me to his eightieth birthday party but he had changed his mind. My name had been stricken from the list of invitees.
He went on to say he took umbrage with my writing that old people cannot govern America. I have to admit I was somewhat embarrassed. This guy is as sharp as a whip so my denigration in my post about the Hill/Billy combo which is reaching the ripe seventies didn't sit too well with him.
It was sort of embarrassing talking to him. I have no difficulty seeing him as capable a president as any of the recent holders of that office. I tried to explain that even though some people remain sharp throughout their long lives it still wasn't a good idea for a country to have an old person as president.
He then said: "Well, you might as well admit it, you are engaging in ageism." I agreed that my column suggesting the Hill/Billy duo was too old to hold the office was a form of ageism. After reminding me I still was not invited he rang off.
I later learned that prior to that call Hecktor had been engaged in certain questionable activities that raised some eyebrows. The F.B.I. learned about them. It had put what's known as an open surveillance on him. That is the kind where the F.B.I. agents don't hide their presence. Where ever Hector went there were at least two agents openly following in his footsteps.
This upset Hecktor a lot. He felt that it was only a matter of time before they closed in on him. As I said, no grass grows under his feet so he moved to preempt any F.B.I. onslaught. He contacted the agent in charge of his investigation.
They arranged for a sit down. Hecktor asked her if he could make a deal with her. She said he would give someone else up to get a pass. She had to check with her bosses and would get back to him.
She arranged for Hecktor to go into F.B.I. headquarters to meet with a prosecuting attorney, the special agent in charge (SAC) and herself. They asked Hecktor what he was willing to give up to get them off his back. They also advised him that whatever it was it would not be enough in and of itself. He would have to agree to become an informant.
Hecktor really had no idea what the F.B.I. had on him since he had his hands in so many things and it's hard to tell anymore what is and what isn't a federal crime. All he really cared about was putting this behind him. If it were necessary for him to become an informant to get a deal he was willing to do it. After all from his knowledge of the Whitey Bulger case he knew he could later deny being one.
I knew none of this at the time two F.B.I. agents stood on my doorsteps and rang the bell. Having known Hecktor for many years the last thing I suspected was that when he accused me of ageism the telephone line was being monitored and taped by F.B.I. agents.
The agents showed their credentials. I invited them in. They declined a cup of coffee. They can't drink coffee on the job. After we sat at the counter I took out my iPhone and put it in front of me. The woman agent asked why I did it. I said I wanted to record anything said among us.
She said that was against the rules. I told them I make the rules in my house. The long and short of it was they upped and left without telling me why they were there.
Later that same day Hector came to my house. He was all apologetic. He told me that he was responsible for the F.B.I. visit. He pledged me to secrecy.
He said: "I was in a panic. I had nothing to give them. I told them some things but I wasn't getting anywhere. Then I told them about your post about Hillary and the prosecuting attorney got all excited. He shouted out, 'that's the crime of ageism. I've been looking for such a case.'"
I'd later learn there has been a push to make it a crime. 
I laughed and said: "I don't believe they let you skate to get me on ageism. There's no such crime." He said that's what the F.B.I. SAC said to the prosecutor but the prosecutor replied: "Did you ever hear of John O'Brien the probation supervisor. Before that case patronage wasn't I crime. I made it into a racketeering charge. I can do the same thing for ageism." 
After that he made the call to me which I mentioned. Hector added that after the call they said they were going to send agents out to interview me. I didn't tell him they had already come. He said he wanted to tip me off because the prosecuting attorney also said that if I denied I engaged in ageism I'd have committed the crime of lying to an F.B.I agent.
Now I wait for the second shoe to drop.