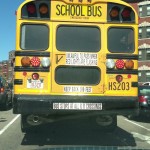 I write because I read in the Boston Herald yesterday a column by Margery Eagan. Her column started off: "Welcome to Brookline, my adopted hometown. It's a sanctuary city for 
illegal immigrants. It's where Town Meeting OK'd non-citizens voting in local elections, put the kibosh on spanking and banned plastic bags and Styrofoam. We're right-thinking and compassionate in Brookline . . . " 
She continued by telling us that the town is going to kick out of school children who live on the Boston/Brookline border. From what I can tell those people are not wealthy, seem to be working class people trying to better the educational opportunity for their kids, and have put all the assets they have into their houses to have their kids attend the Brookline schools. It also seems they pay Brookline taxes. But in the scheme of things in Brookline, they are POOFs (people our of favor).
It's an old story as you'll see. It's one that stares us in the face but we don't want to talk about it. Plain and simple: the schools in Boston aren't too good and any person with young children who can will flee from them.
In this border home case, there will be 30 kids affected by this cruel decision. That's it, 30 kids. Brookline has about 6,200 kids in the school. The best I can figure is the student body is about 57.4% White, 18.1% Asian, 6.4% Black, 9.9% Hispanic, and 8.2% Multi-race. It seems a well integrated system.
I should note it's not that Brookline doesn't open it arms to outsiders. It has a Metco program which is designed to help black kids in the City of Boston attend suburban schools that offer better educational opportunities.  Brookline suggests that helps It takes over 300 students from Boston into its "voluntary integration program." It just doesn't want border kids.
Metco makes manifest the failure of the Boston Schools to provide a decent education for it students. It has 3,600 students who are willing to travel on buses, some long distances, to escape the Boston Schools. The last I heard there is a waiting list.
Some of you may know I was one of the attorneys for the Boston School Committee during the days (1972 – 1975) when Judge Wendell Arthur Garrity, Jr. took over dictatorial control of the Boston Schools. He became the darling of many from Brookline and other "right thinking" people outside Boston who supported his Sherman-like march through the Boston school system.
Some suggest that was the beginning of the great animus that developed between Billy Bulger and the Boston media. Billy attempted to stand in front of the federal steam roller proclaiming: "Why are you sending the children of South Boston outside their neighborhood to school that are so bad you want to take the children attending them out and put them somewhere else?"
To defend one's neighborhood schools was considered racist. It followed then that Billy was considered a racist especially by those unaffected by Garrity's decrees. Most of those who chastised him were not affected by busing.
Metco which suggests it origin goes back to 1966 was ongoing at Garrity's time. But the Metco program was a one-way creation. No kids were going to be sent into Boston, the black kids would be the ones forced to travel to get an education. It boiled down that the kids being put on buses to go to the admittedly decrepit schools that were shunned by others were mostly from South Boston.
The unfairness never occurred to most ensconced safely outside Boston. It was simple to yell racist than to think of the overall effect of what was happening. Having to sit in court every time there was a hearing on the case, I listened in amazement as Judge Garrity became so involved in minutiae that he was deciding what brand of basketball was to be purchased for the gym at the state-trooper lined hallways of Southie High.
I could go on but word limit dictates I turn to my story.
I had left my State Street office during those busing days and was heading over to Post Office Square to the federal courthouse. I happened to run into a law school friend who lived in Brookline. He knew of my involvement in the case and went on and on about how racist the people from South Boston were. When he finished his rant I said to him: "You know what Garrity is going to consider today? It's whether to bring Brookline into his order for busing. After all, it is right in the middle of Boston so he thinks it too should be part of the case." He turned white and then red with rage telling me how unfair that would be.
Brookline was willing to have some black kids from Boston shipped to it under Metco, but it was ready to fight tooth and nail to keep its kids in its neighborhood schools. In truth, since cities and towns are the creation of the state, had Garrity had the courage he could have brought Brookline or other towns into the case. But any threat to those outside of Boston would have had a great blowback on Garrity's popularity. So it was only left to the kids of Boston to undo years of segregation. As you know, Garrity's program turned into a great disaster for the Boston Schools.
There will always be some on both the left and right of our political spectrum who want others to sacrifice as long as it does not affect them. So shall it always be. I'm quite sure that none of those voting to kick the border kids out of the Brookline schools live in the border homes.