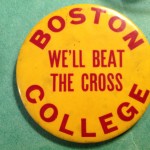 (I have arranged for Tucker and Spring, noted expert sports commentators, to publish at www.hubgab.com (where I will eventually move) with an emphasis on Boston College and college football during this upcoming football season.)
A Tucker/Spring Analysis
How will BC fare with their new coach DAZ?  He inherits a two win team. Similar to Coughlin and O'Brien who inherited four win teams. Both of those coaches went on to produce consistent winners. Coughlin took the team to the nine win level in his third year with an impressive road victory over the number one Notre Dame. His team was as good as any playing at the time. O'Brien accomplished  about the same. He brought BC up to the eleven win plateau with eight straight bowl victories. An historic fete second only to FSU's fourteen straight.  His teams with stars like Ryan, Raji et al were as potent as any in the land. Can DAZ replicate those performances or come close? Time will tell. But no one is expecting miracles immediately. Improvement yes titles no.
Spoke to a friend who follows the team and we both agreed that anyone replacing the AD and HC would be an upgrade. Even if his two grand kids who are four and six took over results would improve. BC rid themselves of the worst combination AD and HC in college sports history. BC fans will have to hope that DAZ doesn't have Charlie Weiss disease. Good recruiter, awful coach.
The good news is that DAZ was an understudy to Urban Meyer who has produced solid winners at Utah, Fla. and OSU. Also he has never worked for Bellichik whose assistants have compiled some of the worst records in all of football. How does the season look?
It seems there are three likely wins in Nova, Army and NM St. There are five toss up games in Wake, NC St., Maryland VT and Syracuse. Three unlikely wins in USC, FSU and UNC. And finally a most unlikely win in Clemson. ( All fans should watch this Saturdays match  up between Georgia with the top ranked QB in the SEC, Murray and Clemson with the top ranked QB in the ACC, Boyd ). Those looking for a detailed analysis of every college football team  should follow Bill Connelly at SB Nation.