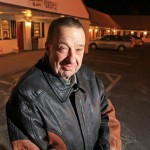 Sunday is a day for a little bit of good news.  This comes in the form of a decision by Judge Judith Gail Dein who slapped down the outrageous actions by our US Attorney Carmen Ortiz to all but steal a motel from its owner.
This isn't a story about the Hotel California the lovely place mentioned in song but rather about the Motel Caswell which was described by its owner, Russ Caswell as, "It's a budget motel. You know, it's an older place, but we do our best to keep it in good condition."
I wrote about it a while back and again more recently in connection with the suicide of Aaron Swartz.  My initial take on the Caswell case was that Carmen Ortiz was acting like Whitey Bulger and she was engaged in an attempt to steal  this property from a hard-working guy. I suggested that her actions in this type of case made me question her judgment as a prosecutor. This was before I knew anything about Swartz's prosecution.
Judge Dein's decision reaffirmed everything I thought about the case. She pointed out that Russ Caswell had no formal education beyond Tewksbury High School. He lives with his wife of 48 years,Patricia, his 92-year-old mother-in-law, his son Jay and his wife and their 9-year-old daughter next door to the motel. Russ has one other child, a daughter Julie who has two kids. It's a family business. Russ works there "virtually every day" (that's seven days a week, 52 weeks a year, no vacations), his wife Patricia worked there as well until she became seriously ill, his son Jay does the maintenance work and fills in at the front desk, and his daughter Julie does the bookkeeping.
It's pretty much a family run business that requires full attention. The motel was built in 1955 by Russ's father, has 56 rooms, rents about 14,000 rooms a year with a mixture of semi-permanent and transient guests. Russ and his family have no criminal record, have never been in trouble, and knew nothing about the drug transactions that occurred there. The government's basis for seizing this motel from this family was according to Judge Dein, "15 specific drug-related incidents during the period of 1994 to 2008. It should be noted that during this 14 year period, the Motel Caswell rented out approximately 196,000 rooms." Of these 15, "four cases clearly did not involve drug crimes punishable by more than one year of imprisonment . . . and in four other cases it is unclear whether the incident involved a drug crime punishable by more than one year of imprisonment."   The Government must show that the property was intended to be used in a drug crime punishable by a year's imprisonment  to forfeit it.
US Attorney Ortiz was using evidence of 7 rentals out of 196,000 rentals which involved drug activity which Russ knew nothing about over a 14 year period to take the motel from him which is worth about 1.5 million and destroy this family's means of livelihood and future retirement. She wanted to divide the money, 80% to the Tewksbury police (who should be ashamed of their participation in this action) and 20% to DEA (which has no shame). I once said this showed she lacked prosecutorial discretion and was being led around by the nose by cops.
How on earth on such flimsy evidence could she allow this forfeiture to happen? What does she think her job consists of? We've already heard her say "stealing is stealing" as if all acts of theft are alike. Thinking of the Caswell case it's more than she lacks good discretion, what it really shows is she has no heart especially when it comes to those least able to defend themselves.
There is no way Russ could have prevailed in this case that lasted three years and took a week to try except  for the help he got from some lawyers who offered their services to him for free. He had already spent 100,000 dollars stemming off this unconscionable seizure when the Institute for Justice aided by the lawyers from a Braintree law firm, Schlossberg LLC offered to help him.  Caswell has estimated that us taxpayers are going to have to pay his lawyers $800,000 for his defense.
And what does US Attorney Ortiz say: "This case was strictly a law-enforcement effort to crack down on what was seen as a pattern of using the motel to further the commission of drug crimes for nearly three decades . . . . "We are weighing our options with respect to appeal."  
She doesn't get it. "Three decades?" Try 14 years. "Pattern of using the motel to further the commission of drug crimes?" 7 rentals out of 196,000 is a pattern? One forfeitable drug transaction every two years is a pattern?
Ortiz is clearly not up to the job. Maybe she should take a break. She epitomizes the opposite of what Justice Robert Jackson said was the requirement of  a prosecutor. "A sensitiveness to fair play and sportsmanship is perhaps the best protection against the abuse of power, and the citizen's safety lies in the prosecutor who tempers zeal with human kindness, who seeks truth and not victims, who serves the law and not factional purposes, and who approaches his task with humility."