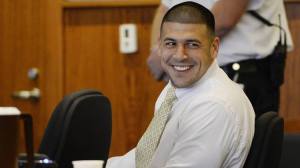 On February 13, 2013, according to the Suffolk DA Dan Conley, Alexander Brady was left "to die on the side of the road in Riviera Beach," Florida after being shot by Aaron Hernandez. The reason behind the shooting, according to the DA, is that on July 16, 2012, on Shawmut Avenue Brady was a "percipient witness to the homicides of Daniel de Abreu and Safiro Furtado" for which Aaron Hernandez stands indicted and Aaron wanted to make sure there was one less witness.
What is strange about all this is that Hernandez has not been charged with a crime in Florida for shooting Brady? How is it he can shoot a guy in Florida, leave him for dead, and not be charged? That's one question that has me trying to figure the answer to; but there is another one.
How is it that a DA in Massachusetts can charge for a crime committed in Florida? The answer to that last one is simple to answer. He can't.
The DA says he can do it because the state law that makes it illegal to injure a witness with the intent to impede a criminal investigation. That's true but there are also other matters that must be considered when charging a defendant. Why do you think there is no Massachusetts law that reads: "anyone who murders a Massachusetts resident anywhere in the world can be indicted and tried in Massachusetts."  It's because the jurisdiction for crimes is limited to those which are committed within the state; which is the same for all the other states.
Which makes me wonder what is behind the DA doing something that should not stand up in court. (I say should because judges make the laws and they can make them apply anyway they want.)
Chapter 268, section 13B of the MA General Laws concerns intimidation of a witness.  It reads: (1) Whoever, directly or indirectly, willfully (a) threatens, or attempts or causes physical injury, emotional injury, economic injury or property damage to; . . . (i) a witness or potential witness at any stage of a criminal investigation, . . . shall be punished by imprisonment in a jail or house of correction for not more than 2 and one-half years or by imprisonment in a state prison for not more than 10 years, . . . "
The last paragraph in the statute reads: "A prosecution under this section may be brought in the county in which the criminal investigation, grand jury proceeding, trial or other criminal proceeding is being conducted or took place, or in the county in which the alleged conduct constituting an offense occurred."
The DA is suggesting because the investigation took place in Suffolk county therefore he can prosecute it even though the conduct constituting the offense took place in Florida.
There's a little thing that seems to stand in his way. It is the Massachusetts Constitution. The Bill of Rights in our Constitution states: "Article XIII. In criminal prosecutions, the verification of facts in the vicinity where they happen, is one of the greatest securities of the life, liberty, and property of the citizen."  It seems if something happened in Riviera Beach, Florida, the Suffolk DA is going to be hard put suggesting that Suffolk County, Massachusetts is in that vicinity.
There's more. Chapter I, the Legislature Power, Section 1, Article III reads: "The general court shall forever have full power and authority to erect and constitute judicatories and courts of record, or other courts, to be held in the name of the commonwealth, for the hearing, trying, and determining of all manner of crimes, offences, . . . causes and things, whatsoever, arising or happening within the commonwealth, or between or concerning persons inhabiting, or residing, or brought within the same, whether the same be criminal or civil, or whether the said crimes be capital or not capital, and whether the said pleas be real, personal, or mixed; and for the awarding and making out of execution thereupon. . . ." (Emphasis added)
This seems so elementary to me that a criminal act in Florida cannot be tried in Massachusetts that I have to wonder what's behind it. Even more so do I wonder when I know the DA has charged Hernandez with a double homicide. If he's got a strong homicide case why would he be charging a guy already doing a first degree life with a ten-year felony?
I've suggested earlier that if Hernandez was acquitted in the Odin Llyod case he would have a good chance of beating the double homicide charge in Boston (Suffolk County.) What seems to be going on now is Hernandez has every intention of going to trial on the double murders in Boston and the DA is worried. Therefore, he's piling this charge hoping it will make Hernandez change his mind. He is trying to force him to plead guilty and not go to trial on the murders. I have to say he seems to be playing with a losing hand.
I would suggest that if he's interested in murders he could look at some committed by the people who were friends of the witnesses in the Whitey Bulger case. Those were certainly in his jurisdiction.