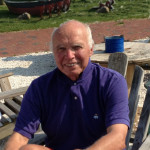 My name is Matt Connolly.  I was raised for the first ten years of my life in the same public housing project in South Boston, Old Harbor Village. My parents were South Boston natives. My dad and his five siblings lost his mother when he was 12 years old. He played football at South Boston High School. He would become president of various South Boston associations.
My mother had her eight siblings one of whom, my godfather James Rogers, was killed during WWII.  Both of my parents were the only ones in their family to attend college. My dad went to Boston College; my mother went to Teachers College of the City of Boston.
Other who grew up in Old Harbor Village were James "Whitey" Bulger and former FBI Agent John Connolly who are often the subjects of my posts. The schools I attended were the Michael J. Perkins, John Boyle O'Reilly, John A. Andrews. Most of my aunts and uncles and their children lived in South Boston.
When I was ten-years-old My family moved to an adjoining neighborhood, Savin Hill, in the Dorchester section of Boston. I went to the John L. Motley in 6th grade, Boston Latin in grades 7 and 8, and then to Boston College High School in grades 9 and 10 in the South End and grades 11 and 12 at its present location on Morrissey Boulevard. I graduated and went to Boston College.
During college I joined the Platoon Leader Class of the Marines and upon graduation was commissioned a Marine officer. I was stationed at Basic School, Quantico, Virginia; Camp Lejeune, North Carolina; Atsugi Naval Air Station, Japan, and at Beaufort, South Carolina. Upon discharge I enrolled at Boston College Law School.
My legal career involved being a trial attorney . The first part in a small Boston law firm that did general law work. I represented persons charged with all types of crimes.  Clients included Mafia types,  local gangsters, and run of the mill criminals. I also had an active civil practice representing those with tort, contract and industrial accident claims, and a Teamsters union. Notable cases involved defending a client in the first wiretap case tried in Massachusetts, and representing the Boston School Committee in the famous school busing case.
I left the firm to become a prosecutor and rose to the top position the office. I have tried every type felony from murder on down specializing in arson prosecutions and those stemming from investigations involving wiretaps and bugs. I conducted more electronic surveillance than all others prosecutors in the Commonwealth combined during my career.
I have written the authoritative book on the criminal trial of Whitey Bulger's long-time F.B.I. handler John Connolly called, "Don't Embarrass the Family."  I have closely followed matters involving Whitey from the time of his arrest in June 2011. I started my blog in the summer of 2012 which involves my observations on matters surrounding him as well as on various other topics affecting the criminal justice system and those of concern to Bostonians and the American people.
I still have my ticket (law license) yet rarely do legal work any more although I often offer legal advice to others. I live in a seashore community within an hour or so of Boston during most of the year but escape during the dark gray leafless winter months to Florida.
My experience provides a different insight into matters than that of an academic, a newspaper reporter or an other who have delved into these matters. I've been there and have done the things that many only write about. As the title of the blob explains I try to set out the truth as I see it which often differs from what is generally believed.
Writing a blog involves a lot of time and effort but it has allowed me to interact with others and to learn from them and to sharpen my thinking. Aside from the blog and the ongoing press of family, friends and keeping up the house, I am writing a book on the relationship between J. Edgar Hoover and Whitey Bulger. Right now I am stuck in the year 1919.