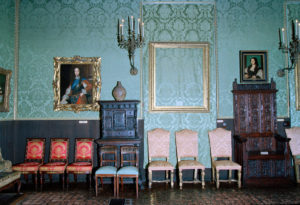 Fifty, a hundred, maybe thousands have been gaming the system of getting into universities for the past fifty, a hundred or more years. Everyone is supposed to be shocked that the rich are bribing coaches, scholars, test monitors and the like to give their kids a chance at getting into a better school than they would otherwise be entitled to get into.
Are we supposed to think that the situation has been on the level in the past?  Are was supposed to believe that no politician ever made a call on behalf of a constituent to get a kid into a school; don't you have to cozy up to a politician which usually means donating to him or her if you want to get your kid a recommendation to a service academy? Do you believe no rich person ever made a call to the university he supported to help someone else's kid get in? Or that no uncle who knew a university president didn't discuss his niece at lunch? You know, I know and everyone in the world knows that those with influence will use it to help themselves or their friends with kids to gain a step up on other kids for a university spot..
How do you think Jarat Kushner got into Harvard after his abysmal record at a Frisch School, a Modern Orthodox yeshiva high school, in 1999. Was it because of his skill as a linebacker in football? Or, did it have something to do with Harvard getting 2.5 million from his father.
Trump got into Wharton transferring from Fordham because of his uncle's connections with an admission person; George W. Bush into Yale because of his father and grandfather. That's the way the country operates. The select few who get selected for the select universities base on special circumstances.
How many Jarat Kushners do you think get into Harvard, Yale, other Ivies and other top schools each year? Is it all right for them to donate big big money to the school but not for others who don't have the big big money but only the little big money to try to buy their kids a chance to go to those schools by supplementing the salaries of some of the coaches? BIG big money gets the attention of the university's president, little big money is so ubiquitous few pay much attention to it except people at the lower levels like the coaches of effete sports like water polo or volley ball or soft shoe dancing.
There should be some outrage here against the parents who are indicted — the outrage should not be because they bribed people to get little Mike or Mika into college — rather because they corrupted their children. No children were indicted but every child seeking admission to a school who knew they lacked the qualifications needed for that school had to know that money strings were being dangled in front of others to buy him or her something they could not gain on their own merits.
What does a kid think who sits with someone else his parents have paid to take the test? Is Joan okay with that? What about the kid Joey who gets in because he is supposedly a skilled crew member and he knows he hasn't even rowed a dinghy.
All, or almost all, of the kids know they cheated to get into school. Their parents have taught them that one way to get what you want is to cheat. That's the great sin here. That's the lesson in life that these parents have taught their children. You want to get ahead all you have to do is cheat. And, it's best to have money if you want to be able to cheat. "So my dear children you must understand this first lesson in life – cheat to get ahead; cheat to get money; and use that money to cheat some more."
Is anything worth teaching a child that lesson? Is that what they want their children to be: white-collar gangsters? How do parents justify bringing their kids into their sordid conspiring? Is that loving them?