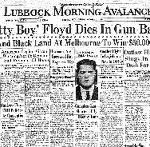 Adrian Walker of the Boston Globe wrote: "[Middlesex District Attorney Marian T.] Ryan declared that "the Middlesex district attorney's office is fully capable of conducting a review of our internal processes.'' But that's a terrible idea. As a person who investigates cases for a living, Ryan surely knows that a DA's office can't investigate itself."
Where have you been Adrian Walker? Does it take the murder of Jennifer Martel for you to see the obvious? Does it take a great public backlash at a district attorney who appears to have stumbled for you to come to the startling conclusion that an investigating agency can't investigate itself.
Now it would be nice to extend that idea to the other prosecutors and to the FBI which has been investigating itself since August 2011 to learn why it used Mark Rossetti as an informant. Why is it we can't find out the relation of Tamerlan Tsarnaev the Marathon Terrorist Bomber to the FBI? Or, why they killed Ibragim Todashev or James Lee DiMaggio Do you think that it is only DA Ryan who can't investigate herself and somehow the FBI can?
Assuming the obvious is true that an agency cannot investigate itself, why is the FBI continually allowed to do it? Why is it in the United States of America we have a group of individuals who can hide its involvement in criminal activity as it did with Whitey Bulger and Mark Rossetti by protecting these criminals and conceal why it was necessary for it to kill people as it did with Todashev and DiMaggio?  Is it because it is not answerable to anyone except itself?
Bill Keating a U.S. Congressman is trying to find out some simple answers to what was the FBI's involvement with the Marathon Terrorist Attack and he is being stonewalled. Senator Lugar comes up against the same wall asking about Mark Rossetti. The FBI even refuses to testify before the Homeland Security Committee. When accused of stonewalling by Representative McCaul it denied that was the case saying "It's an ongoing investigation and a pending prosecution,"
As we've seen with any investigation the FBI does, it can continue it into the future forever since only the FBI decides when an investigation is over. That's another reason why an agency cannot investigate itself. Knowing this, what are the members of Congress going to do about this?
In the face of the worst terrorist attack on American in the last ten years where three people were killed and hundreds maimed neither President Obama or Attorney General Holder judging from their actions seem to feel any responsibility to the people of Boston to get answers. Neither does Congress for all its complaining.
When Representative McCaul the chairman of the committee sought to get the answers what did he do, he issued an invitation to appear before the committee. You don't get any information issuing invitations, you have to issue subpoenas to require people to appear.
This is America today where the FBI has developed into an agency that is not accountable to the American people. Why is that?
We have created in America the idea that FBI Director J. Edgar Hoover drilled into our minds during the 48 years he was its director that it is above reproach. The House Committee on Government Reform wrote a report that went into laborious detail explaining how the FBI used known murderers as informants and allowed innocent people to be sent to prison. It titled the report: "Everything Secret Degenerates."  It tells not only of the FBI's sordid behavior but the ongoing difficulties of getting information from the FBI and Department of Justice (DOJ) and its continuing covering up of important documents. On page after page it shows evidence of the FBI and DOJ's willingness to hide documents and obstruct the congressional investigation.
Yet, and here's the problem, in this report the Committee feels compelled to say:
"The United States Department of Justice is, without a doubt, the finest federal law enforcement organization in the world. The men and women of the Justice Department are dedicated, professional public servants. The integrity of the vast majority of these men and women is beyond reproach."
After uncovering a horrid situation and fighting with the DOJ to get basic information, rather than recognizing that the DOJ's investigative arm the FBI is really spinning out of control the cowardly committee feels compelled to mouth the usual mush which just about undermines its report. We're left to think, "if everything is so wonderful why worry?" as if we are all Alfred E. Neumans sitting around with goofy smiles.
If there are a few rotten potatoes in the peck you don't say this is the finest peck of potatoes in the world. If an organization can team up with murderers and obstruct a congressional investigation it is not the finest of anything.
We've seen what happens when people are left on their own without supervision. We've seen how those unsupervised college coeds on spring vacation acted. Like them, we can see that the FBI agents have gone wild.