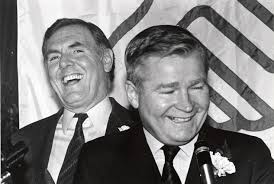 It's about Dershowitz's attacks on Bill Bulger in relation to the 75 State Street matter that have no facts to support them other than half truths drummed up by Dershowitz.  You know the Boston Globe did a Spotlight report on 75 State Street. It continued to report on that for several months. Dershowitz is one of the Globe's favored people using the paper whenever he has a grudge to exploit. Dershowitz wrote: "Billy got a free pass from prosecution for extortion after he received a quarter of a million dollars from the developer of 75 State Street, when the acting U.S. attorney on the case just happened to be the only Justice Department lawyer in on the Connolly-Whitey secret."
The truth is that Bill Bulger's involvement in 75 State Street was examined by two Massachusetts attorney generals and by two federal investigations. All exonerated him. There was no free pass. There was no extortion.
The Connolly-Whitey secret was that Whitey (Bill's brother) was an informant for the FBI and Agent John Connolly was his handler. That was hardly a secret at the time the Globe did the 75 State Street investigation. It had published prior to that time in a Spotlight series on Bill Bulger that Whitey had a special relationship with the FBI. Its knew that because two FBI agents, one a supervisor (John Morris shown above) and another an assistant agent in charge (Robert Fitzpatrick) had, in violation of their obligation to the FBI and people who put themselves at risk to help the FBI, told the Globe of the relationship.
True, that the acting U.S. attorney on the case, Jeremiah O'Sullivan knew of the relationship but there is little doubt that many other attorneys would also know of it since it had become public knowledge. O'Sullivan's "free pass" was not given by him. He had removed himself from the 75 State Street investigation and turned it over to two of his assistants, two men whose integrity has never been questioned. One, Ralph Gants, is now the chief justice of the Massachusetts Supreme Court. It is curious why Dershowitz directs his ire at O'Sullivan but says nothing about Gants. He knows that if he did his whole theory would collapse.
The dirty deal at the time was that the Globe hid that FBI supervisor John Morris was in charge of the 75 State Street investigation and he  was feeding it information on the QT about it. Morris testified that he and Globe reporter Gerard O'Neill were friends. He also testified that he told O'Neill they were closing out the investigation into 75 State Street for lack of evidence of criminality. He said O'Neill got upset and urged him to go on.
Dershowitz has no trouble slandering people who are in the public. This is because public figures have a difficult time protecting themselves because the laws on libel offer them little protection. Here's another Dershowitz quote: ". . . the real villains in this tale of mass murder and massive corruption are the 'good' people who knowingly facilitated the bad brothers — the Dukakises, White, McCormacks, Cardinal Laws, O'Sullivans, Welds, Moakleys, and Silbers." 
Dershowitz goes on: "Also guilty were the cowards who appointed Billy Bulger president of UMass instead of indicting him for extortion and taking bribes, and the reporters for 60 Minutes and The New Yorker who glorified Billy and romanticized Whitey. There are some out there who are still protecting them. The sordid story is not over yet."
Meanwhile Dershowitz around this time is consorting with Jeffrey Epstein. Without any proof he libels a great cross-section of people who he doesn't like while in the meantime he's engineering a crafty deal with a Florida prosecutor to give a serial child rapist a "free pass" unlike the one allegedly given Bulger but one which has been decried by all clear thinking people in America.
Dershowitz was right about one thing though. As far as he and Epstein are concerned "the sordid story is not over yet."