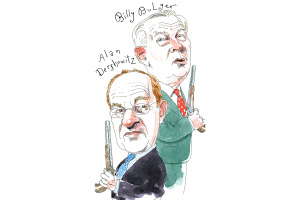 Readers of Thursday's Wall Street Journal saw that it gave up one-third of its op-ed page to Alan Dershowitz's complaint. The headline to his column is: "A Nightmare of False Accusation That Could Happen to You." If it did happen to any of us you can be sure we'd not be given the space accorded to Dershowitz to spell out his lament.
He tells us he woke up on the day before New Year's Eve to find it was asserted in a legal filing by two lawyers that he had sex with an underage female 15 years ago. He notes the girl is referred to as Jane Doe #3 but he does mention she is 31-years-ol. She has been publicly identified in many papers as accusing not only Dershowitz but also Prince Andrew. Prince Andrew has also denied her charges. It seems however that she kept a diary and excerpts from it as far as her involvement with the prince have been published.
Dershowitz's complaint is he can't file a denial in a law suit because he is not a party to the suit; that the lawyers who filed the charges don't have to prove them in court and they will just remain as allegations; and that he can't sue the lawyers for defamation because the charges were part of a court filing. Then he goes on to complain the filing was leaked to the media which he never complained about before when other obscure allegations were leaked.
He tells us how he went public making denials and counteraccusations, the latter he doesn't spell out, and finds he is now being sued for defamation by the lawyers. This latter event may give him the chance to litigate the matter in court and flesh out the circumstances behind the allegation.
Dershowitz calls this a"Kafkaeaque world of American justice" and tells us he "will not rest until this gaping hole is filled with reasonable safeguards so that what is happening to me can never happen to another innocent person."  Oh, by the way he started off the article writing that he has been a Harvard Law School professor for 50 years. During all that time this "gaping hole" existed and it never bothered Dershowitz until he happened to be pushed into it.
Not only didn't it bother him, he took full advantage of it. He gleefully pushed public figures who are pretty much protected from being sued into the same hole.
Those familiar with this blog will recall the attacks Dershowitz made on the reputation of Billy Bulger. They may also recall what Billy called him in his book While the Music Lasts repeating what he said before the Governor's Executive Counsel in 1990 when he confronted him and another attorney as: " . . . murderers, murderers of reputations."
Billy Bulger as a public figure has little chance of success in suing anyone for what is said about him. He pretty much has the same problem as Dershowitz is having in suing the young lady who accuses him of sexually abusing her. But here are some of the things Dershowitz has said about him over the years:
 "The fact that Bulger can't be prosecuted, as a matter of law, because of his immunity, does not mean he is not, as a matter of fact, a criminal."
" . . . the real villains in this tale of mass murder and massive corruption are the "good' people who knowingly facilitated the bad brothers [Billy and Whitey]"
" . . .  guilty were the cowards who appointed Billy Bulger president of UMass instead of indicting him for extortion and taking bribes . . . . "
There's more but you get the idea. Anyway, to get a better sense of the bitterness you just have to know that Boston Magazine rated the Bulger/Dershowitz feud the number one feud in Boston over the last four centuries.  The drawing on this page is from that article.
Dershowitz may be falsely accused but it's hard to feel bad for him.