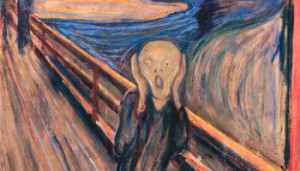 This is a New York story. It happens when you live in those buildings that rise up to great heights. Unless you are in the pent house apartment, you are going to hear what goes on in the apartment above you at times. You recall the story of the guy who had the person above him drop his two boots on the floor each night and after that happened he would fall asleep. Then one night the person dropped only one boot and the other on the lower floor could not fall to sleep waiting for the second boot.
This true story is similar.
David O lives in apartment 5J which is right underneath 6J. He and his wife went to bed at night at the usual time during the work week. Sometime after one o'clock they were awoken by lots of cursing and yelling and what seemed like arguing in the apartment above them. This went on for at least a half an hour. David in frustration penned the following note which he affixed to the door of apartment 6J.
"Hello,  Regarding last night. It is extremely rude and inconsiderate to scream and stomp around your apartment until almost 2 a.m.  My wife and I have to get up early for work. A complaint has been submitted to the management. Next time this will go straight to the police. Please learn your manners."
Like most people crowded into these expensive hovels they had no idea who the neighbor above them was. All they knew was they had been kept awake for quite a while and were unhappy. Hopefully they believed the letter would prevent a reoccurrence.
The upstairs neighbor is Richard Brookshire has a Masters degree in Public Administration from Colombia. He tells how at 1:00 a.m. a friend had called at the apartment looking for some advice. He was quitting his job and wanted to know the best way to write a resignation letter. Richard said he paced around the apartment for a half-hour giving the friend some advice on what to write and then crawled into bed. Richard said what irked him most about the letter was the threat of involving the New York Police Department for something that could have been solved with a neighborly knock on the door.
Reading the story it seemed Richard who caused enough of a disturbance to wake up his neighbors felt he was the victim He did not appreciate the letter. He seemed to think the downstairs neighbor should have gotten out of bed and come up stairs and knocked on his door. I wonder how much he would have appreciated a knock on the door at 2:00 a.m having taken so much offense to the letter.
You must be wondering how I even know this little event between neighbors happened. I'm sure similar things like this happen all the time and they don't make the news. How was it this made the news and was featured in a headline article in the Washington Post.
The headline read: 'Learn your manners,' a white man wrote to his black neighbor. This was the response."
Richard happens to be black. David is white. David did not know Richard race. Richard turned this into a white on black issue and into a big story in the newspaper. How can it be? It had nothing to do with race yet the Washington Post headlines it as if it did. What is worse, is that this everyday incident was turned into a story of white intolerance for blacks. Even worse that Richard apparently believes that if anyone objects to him waking them up with his noise the only reason is that he is black.
The writer of the story is a black man, Cleve R. Wootson, Jr. What was the purpose of the story? It seems to me to have no other than to cause racial disharmony? Is that what the Washington Post is all about?