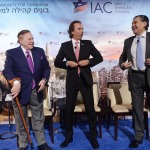 I've written in the past how I could not vote for Romney because he was in hock to Sheldon Adelson. I've noted how Adelson lusts for war with Iran. He suggested dropping nukes on it. Adelson at the same time has told us he regrets serving in the uniform of the U.S. and hopes his boys join the army. Not the American one but the Israeli Defense Forces (IDF).
It is common knowledge, or at least I hope it is, that Benjamin Netanyahu has been trying to have the United States attack Iran since he came into power in Israel. The whole need to attack Iran has been like the doomsday clock that some scientists used to continually predict the happening of a nuclear war within a few days. Year after year for at least a dozen years we have been warned by Netanyahu and others that Iran would have a nuclear bomb in a year or so.
When the U.S. seemed less than enthusiastic, Netanyahu suggested as far back as 2012 that if the U.S. would not attack Iran then Israel would do it on its own. That was never a serious consideration. Just like the Arabs won't put their troops at risk preferring the United States to do the fighting for them; so is it Israel would prefer the United States fight its war with Iran. Not that I blame them, why lose your own boys and girls and spend your national treasure if another nation can be bought into losing their young men and women and spend its money doing it for you.
To force us into war with Iran, a new Jewish group has been formed that calls itself the Israeli American Council.  Its chairman and its co-chairmen are from Israel and were members of its army, the IDF. Most of the members of the board of directors are from Israel. It lists as one of its main goals: "Foster active support of initiatives that further Israel's welfare, security, education and its relations with the United States." (Nothing about helping America.)
Its inaugural national conference took place on November 7 -9 in Washington, D.C. It was sold out.  People interested in attending were invited to join: "Mr. Sheldon Adelson, Mr. Haim Saban," and others.
The list of speakers  included Mitt Romney (forever beholden to Adelson) , Senator Menendez from New Jersey and Senator Graham from South Carolina. Graham in his speech called the Iran situation "the most significant event in modern history." He also threatened to cut off U.S funds to the U.N. if it keeps up "Israeli bashing."
It is reported that two billionaires Sheldon Adelson and Haim Saban, an ally of Hillary Clinton, who "have gained enormous political power in the new era of super PACs and unlimited contributions, and both made it clear during a rare joint appearance Sunday before an audience of several hundred Israeli Americans that they intend to assert that power during the next presidential campaign and beyond with policy demands for their candidates. In particular, they vowed to press both sides for a more hawkish approach to the Middle East." (my emphasis)
The article went on to note: "In their public remarks, Saban and Adelson found common ground in their disdain for Iran, and their fear for the danger they say that regime poses for Israel. They expressed concern about U.S. negotiations over Iran's nuclear program. "
 Saban said the United States should explore "all options" including tougher economic sanctions and do more to make Iran understand "we mean business" if they don't agree to a nuclear pact. "Take military action, but only after all options have been exhausted. A stick and a carrot yes — but we've shown too many carrots and a small stick,"" 
If he were Netanyahu in the event of a bad Iran deal, Saban said, "First of all I'd come to the full realization we're screwed, maybe" and "would bomb the living daylights out of these sons of bitches." Aside from his disdain for the lives of Iranians, he knows Israel can't go it alone and that's why he's paying to get the Americans to do it.
Adelson remarked that negotiations can only accomplish so much before military action becomes necessary. "I wouldn't just talk, I would take action," he said. "Not taking action is too costly." (I'd point out that taking action will be very costly to American and Iranian lives.)
In effect what we see is two billionaires and their supporters who will condition their support of the next president on the promise of a U.S. attack on Iran. None suggest Iran is a threat to us.
I've always wondered if some day billionaires would be able to buy the blood of American troops; some think they can. I hope they are wrong.