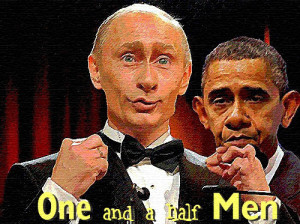 We have a real question we must answer as a nation. What do we stand for?. What are we willing to sacrifice to achieve those goals?
I don't know of anything that bothered me more than the happenings of this last week when it comes to America's future. Let's start with the editorial in the Washington Post on December 17, 2015. It reads in pertinent part:
"RUSSIAN PLANES are still bombing Western-backed forces in Syria every day and targeting hospitals, bakeries and humanitarian corridors. Moscow is still insisting that blood-drenched dictator Bashar al-Assad remain in power indefinitely while trying to exclude opposition groups from proposed peace negotiations by claiming they are terrorists.
Nevertheless, Secretary of State John F. Kerry insisted Tuesday after meeting with Vladi­mir Putin that the Russian ruler and the Obama administration see Syria "in fundamentally the same way." Unfortunately, that increasingly appears to be the case — and not because Mr. Putin has altered his position.
For four years, President Obama demanded the departure of Mr. Assad, who has killed hundreds of thousands of his own people . . . . Yet in its zeal to come to terms with Mr. Putin, the Obama administration has been slowly retreating from that position. On Tuesday in Moscow, Mr. Kerry took another big step backward: "The United States and our partners are not seeking so-called regime change," . . . 
At the same time, the administration's forswearing of "regime change" sends a message to Mr. Putin and his Iranian allies: The power structure in Damascus that has granted Russia a naval base and served as a conduit for Iranian weapons to the Hezbollah militia in Lebanon can remain.
Mr. Kerry says he is trying to forge a political process that will lead to a cease-fire and eventually a political deal. . . .   For now, however, even that looks like a long shot. Not only does the Assad regime have a record of blatantly disregarding U.N.-sponsored cease-fires, but also Russia manifestly does not see Syria as the West does, as its vicious and apparently deliberate strikes on civilian targets far from Islamic State territory show. Mr. Kerry said that he had raised those attacks with Mr. Putin, who graciously "took that under advisement." If and when the Russian bombings cease, there will be more reason to share in Mr. Kerry's sunny view that Russian and American views on Syria are converging".
Why are we buckling to Putin? He invaded a neighboring country. He  is bombing our allies in Syria. Our response is  to accommodate him? Obviously, he is laughing at our weakness as he pours planes and troops into Syria.
It gets worse.  Also on the 17th Obama told a group of news media people "that sending significant ground forces back to the Middle East could conceivably result in the deaths of 100 American soldiers every month." Obama worries that in protecting our interests we might suffer casualties. How do you think that message is interpreted by Putin, or for that matter ISIS or the Ayatollahs in Iran.
No one wants unnecessary American deaths. Yet, America has always been willing to put its troops on the line to maintain peace as we still have in Korea. If you set policy based on fear of American casualties then you send a message to others that they can take what they want.
There is one condition that would make Obama send "significant ground forces." That would be "in the case of a catastrophic terrorist attack that disrupted the normal functioning of the United States." Are we supposed to wait for something like that where America is brought to its knees while Russia and Iran make Syria into a vassal state; ISIS enslaves, tortures and beheads more people; and a country watches its population emptying out?
We are supposed to be the preeminent military power in the world. We are acting like a third-rate country that will stand up to its enemies only under the most dire conditions. How is it this president does not understand that this is not who we are. We know the results of appeasement are much worst than anything that results from standing up and meeting a threat.
America  won the Cold War. We were not fearful and waiting for the "normal functioning" of our country to be destroyed. We stood up to our foes. We were guided by the idea captured by these words: "Let every nation know, whether it wishes us well or ill, that we shall pay any price, bear any burden, meet any hardship, support any friend, oppose any foe to assure the survival and the success of liberty."
Yes. it is a long time since America stood for that. President Bush when asked what Americans could do after we were attacked said: "live your lives, and hug your children. . . . to be calm and resolute, . . . [I ask] . . . for your patience, with the delays and inconveniences that may accompany tighter security;  . . . continued participation and confidence in the American economy.  . . . finally, please continue praying . . . " 
President Obama asks only that we tighten up our gun laws and get rid of some of our guns. We've become hardship-free America. No sacrifice called for. Or, maybe there is one. Perhaps if we all be sure to wear flowers in our hair the threats to our security will go away.