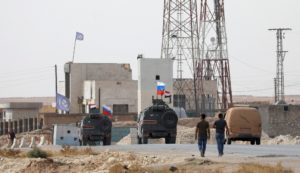 According to this article one executive editor Kevin Baron captioned this video posted by RT:
"Russia was "gloating on their global television propaganda network" as U.S. forces left the area .
Another RT video with a tweet read: "Syrian Army meet US troops on a highway as American forces move out from Kobani. Wondering if they waved to each other…"
Russian journalists are also documenting cheerful Russian soldiers apparently moving into deserted U.S. military outposts.
"Video scenes from Manbij #Syria this morning. US troops out of base, Russia comes in. Putin & Assad making most gains out of US withdrawal & #Turkey operation:"
Videos circulating on social media
 appeared to show a Russian-speaking man filming himself walking around a recently evacuated United States military base in northern Syria, punctuating the message that the Russians were now in charge.
Acting Secretary
of Defense Mark Esper
"
disputed the notion that the U.S. could have stopped Turkey from invading in the first place. He said Erdogan had made clear he was going to launch his incursion "regardless of what we did."   
Esper went on to say:
"President Donald Trump had directed U.S. troops in northern Syria to begin pulling out "as safely and quickly as possible."
  He added:
"We have American forces likely caught between two opposing advancing armies and it's a very untenable situation." 
Andrew Milburn, a Marine colonel who retired in March as the deputy commander of U.S. special operations forces in the Middle East, told NBC News that the small number of U.S. troops in Syria "bought us a lot for a very low price. By withdrawing these guys, who knows where this will end,"
Abandoning them, he said, will cost the U.S. "the last vestige of credibility we had in the region," because the U.S. relied on Kurdish militias to defeat ISIS and gave them an implicit guarantee that they could live peacefully in a semi-autonomous region.
He added: "Trump definitely could have stopped it from happening," Milburn said of the Turkish incursion, "We've stopped the worst of Turkish territorial ambitions in the north a number of times" by threatening to respond with force to any Turkish attack on the Kurds."
The
Russian Defense Minister said
"the Russians were patrolling near the strategically important city of Manbij, vacated by the Americans and Syrian Kurds and now occupied Syrian government troops. The statement also said Russian troops were coordinating "with the Turkish side."
It's not necessary for me to add much to this. We kept the peace and stuck by the Kurds for several years because they did the ground fighting for us against ISIS. We were there because ISIS is a threat to our country. We managed to keep that area stable. It is reported over several years 6 American servicemen and 11,000 Kurds died fighting ISIS.
We also did it despite Turkey's displeasure knowing as long as we were there Turkey would not bother our allies the Kurds. Suddenly Trump green lights Turkey's adventure. We run. Esper says we had no choice but we did. All we had to do was tell Turkey not to do it. Would that have worked? It seems to be working for the Russians.
The result is the slaughter of many Kurds by Turkish militias. Here's one example, a woman working for peace named Harvin Khalaf. She was the future Syrian Party general secretary. She was dragged from her car and executed along with others civilians. 
Turkish state-backed media
Yeni Safak reported that the military had "neutralised" Ms Khalef in a "successful operation."
For the first time ever the United States military ran when threatened. It abandoned a close and long-term ally in its flight. It allowed the Russians to do what it feared doing. This is one of our darkest hours. Our prestige in the world has plummeted. How many other nations will turn to the Russians to protect them seeing that the United States runs.