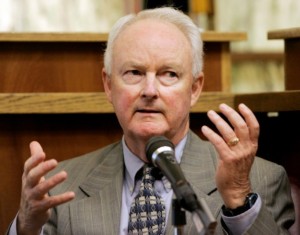 You have to read this article.  It was written by Dick Lehr of the Globe staff. Gerald O'Neill of the Globe staff contributed to it. It has to be one of the most dishonest articles ever written for what it leaves out. It tells us a lot about the mindset of the people who wrote it. These people also wrote a couple of books on the subject. You can just imagine how truthful they must be.
The article was written on June 14, 1998. It talks about a bribe that FBI Supervisory Agent John Morris admitted taking. Morris does not recall the date but did recall the incident to which it was related. It happened shortly after he told Whitey and Stevie Flemmi that his unit was going to do a wiretap on John Baharian. In the context of his testimony it was clear to me he connected the payment to his tipping them off about that.
One of Morris's lawyers, according to the article, said it happened "in late 1986." It seemed strange the lawyer would know the date and not his client.
It was important to these writers to tie this in to the investigation of 75 State Street so that they could suggest that Whitey gave him the money as a bribe to help his brother. The first sentence in the article reads: "As an  FBI supervisor, John Morris was overseeing an investigation of then – Senate President William M. Bulger in 1986 when a gift arrived from the politician's big brother, gangster James J. 'Whitey' Bulger."  The clear intent of the article is to smear Bill Bulger which they had been continuously doing since 1988.
There is one huge thing that Lehr and O'Neill fail to mention in their article. It is that they knew the gift had nothing to do with Bill Bulger but they wanted to lie about it. They did so by connecting them in one sentence.
They knew that because FBI Supervisor John Morris had been feeding them information since before 1988. He was an informer to the Globe who violated one of the FBI's most sacred rules by revealing to it that Whitey was an informant. He continued to provide them information over the years.
At the John Connolly trial in 2002 he would testify that Gerry O'Neill was his friend and that "when the investigation into the sale of 75 State Street that involved Senate President William Bulger was ongoing I told the Globe about it." When asked by FBI agents whether he had done so he lied.
In the Whitey Bulger trial he would tell how he kept O'Neill apprised of the 75 Street investigation as it was occurring. He testified that after he told O'Neill there was nothing to be found against Bill Bulger O'Neill urged him not to stop the investigation but to continue it.
There was nothing about the 75 State Street investigation that the Globe did not know because Morris was feeding them information about what he was doing. Morris was another Mark Felt,a deep throat who revealed FBI secrets to a newspaper. I suppose we could call him Boston's Dirty Throat.
Morris conducted the investigation of Bulger so that he could please his friends at the Globe. Morris knew the five thousand dollars was for Baharian. His litany of events leading up to the payment is he had a dinner party with Whitey, Stevie and Connolly where he tipped them off about the Baharian wiretap. Connolly refused to do this. Then at the next dinner party shortly after that Whitey gave him the $5,000 after Connolly and Stevie left the room .
Nowhere in the article does Lehr correctly identify who Morris is. There is no mention he had been feeding them information on the matter, or that he was their informant and their friend. In the article they would label Morris "a corrupt FBI superivisor" but they had no problem over the years using his information and basing their books on what he told them.
Keep this in mind when you consider these matters. Lehr and O'Neill were intent on destroying Bill Bulger. Forget that and you miss the real truth behind the Whitey saga.