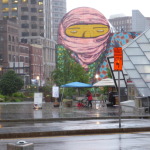 I've dabbled in fiction writing. The main thing you have to do to be credible is to maintain a person in character. The protagonist should not be as sharp as a razor on one page and dumb as an ox on the other. That's because you have to write to our common experience. Characters must be believable. For instance, if I were writing about an FBI agent, who I didn't want to portray as an everyday competent agent, she'd either be a lazy bumbling fool or a courageous brilliant investigator. She wouldn't be both.
It is only in the world of gangsters (and federal prosecutors) that you have the agent that is at the same time a highly skilled agent capable of dealing with the most vicious of criminals but is also an ignorant waif who has failed to learned the basic skills of investigatory work despite many years on the job.
I've recently read Steve Flemmi's portrait of FBI Special Agent Paul Rico. He worked for the FBI for more than 25 years. Even after he retired the FBI brought him back in an undercover role in an investigation of a federal judge where he posed as a criminal. He worked in Boston from sometime in the 1950s up to 1970. He moved to the Miami office from which he retired in 1975. After that, he obtained the position of the head of security for World Jai Alai, a Florida gaming company.
He was what is called a brick agent. He worked the street. When the FBI instituted its Top Echelon Informant program he was designated the agent in Boston to handle it. He was able to turn several top criminals into FBI informants including Steve Flemmi, who tells the story, his brother Jimmy and others. He was also able to turn Joe "the Animal" Barboza, a Mafia hitman, into a cooperating witness against the top Mafia leaders in New England. Three major cases were brought against them with his help. He also was instrumental in developing informants that brought other Mafia hitmen to justice.
You'd have to admit if he could do these things he was a fairly skilled agent aware of the methods and means of the criminals. You'd have to believe that if he decided to go over to the dark side he'd know how to do it in a way that would not compromise himself. One thing he'd know for certain, I'd suggest, is that the last thing he'd want is to give any of the gangsters something to use against him. He'd seen over and over again how these criminals want to have something in their pocket that they would be glad to give up to get themselves a deal. What could be better than having a bad FBI agent in your deck of cards to trade?
Flemmi paints Rico as being corrupt in Boston. Objective evidence gives lie to that. Flemmi was very close to the Mafia. His buddy, Frank Salemme, was likewise situated. If they had anything against Rico at that time it would be a feather in their caps and big money in their pockets to help their Mafia friends. Rico pushed hard up against the Mafia. New England crime boss Raymond Patriarca, Gerry Angiulo, his underboss, their men Tameleo, Limone, etc. would not have gone to trial and some to prison if they had anything on Rico to make Rico back off. That Rico didn't, shows to me they didn't.
But it gets better than that in Flemmi's tale. He tells us the former CEO of World Jai Alai (WJA) John Callahan planned to buy WJA from the owner Roger Wheeler. Callahan had been kicked out of his position in WJA because he was seen associating with gangsters. Flemmi said he told him that once he became owner then Flemmi and his friends will be paid 10,000 dollars a week under the table as muscle to keep other gangsters away. (Up to this time WJA never had any problems with gangsters nor any relationship with Flemmi and his friends.) Rico, as noted, works at WJA as the head of security. Flemmi said Callahan told him Rico is a partner with him and another in buying the company out.