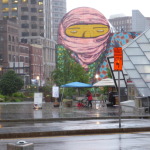 John Callahan hoping to buy World Jai Alai (WJA) approaches the owner Roger Wheeler who refuses to sell. The rebuffed Callahan decides if he murders Wheeler then his widow will sell the business. He hires ($50,000) Flemmi and his friends to do this.
Callahan tells Flemmi that former highly experienced FBI Agent Paul Rico who works for WJA is all for it. Now get this. Flemmi picks up the phone and calls Rico at his office in WJA. Rico has no problem telling this life-long gangster who he knows has been an informant in the past and may very well be one at the time he is talking to him over the telephone he is that he is in on the plan to murder Wheeler. He has no concern with the phone being bugged, others listening in or putting his future in the hands of a gangster.
Wheeler gets murdered by Flemmi's friends John Martorano and Joe McDonald. It turns out that Wheeler's widow won't sell WJA to Callahan. Flemmi and his friends decide Callahan is a liability. Martorano and McDonald murder him.
Accept Flemmi's story as true. Put yourself in Rico's position. He's sitting in the WJA office having been involved with Flemmi in the planning of the murder of its owner. The plan for the sale fell through. Now his partner in the deal to buy the company, Callahan, has also been murdered. What do you think this hardened FBI agent is thinking?
I'd have to guess that if he were in on the plan he'd be worried for his own life. He is the only non-gangster out there who can finger the murderers. But that's not the case.
Flemmi tells us McDonald who helped Martorano murder both Wheeler and Callahan is curious. He asked Martorano what happened to the deal to sell WJA. I have a hard time making sense out of this. Even the dumbest criminal would know the sale was dead after the owner's wife wouldn't sell; if that didn't kill it, it certainly died after the person who was going to buy it got murdered. How could anyone, no matter how stupid he might be, not figure out that when the the buyer and seller in a deal were murdered the deal itself was dead?  But let's let that pass.
It gets better. Flemmi says he called Rico and told him he wanted a meeting with him at WJA in Florida. Who do you think would be the last guy in the world Rico would want to meet at his business? Not only does Flemmi want to meet with him, he's going to bring along with him one of the murderers, John Martorano.
At a minimum if Rico would meet with them he'd want to do it at an out-of-the-way location but not too out of the way since he would not know if these guys wanted to knock him off. Under no circustance would it have been at a place that has several other FBI agents and private investigators walking around making sure gangsters stay out of the WJA location. Not only that, the place would be loaded with video cameras. Flemmi is a notorious criminal and Martorano is a fugitive from justice hiding out in Florida.
Flemmi says he flew down to Miami and met Martorano outside the WJA facility. They go into the lounge. Flemmi met in the lounge with Rico. They talk. They call Martorano over. Martorano tells Rico, according to Flemmi, that McDonald wanted him to hear it from Rico that the sale is dead. He heard it and left. Flemmi stayed a bit longer. As he left he said Rico told him "there was a lot of law enforcement interest in the case."
The story doesn't fly. The reason for the meeting makes no sense. No veteran and skilled FBI agent who was involved in a murder plot would meet with his fellow murderers who are known gangsters at his place of business. Especially would it not happen knowing the cops are investigating the murders and where he works is the bullseye of the investigators.