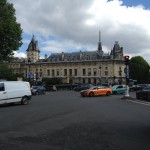 Whitey Bulger's attorneys J.W. Carney and Hank Brennan made the following request for discovery. They seek the following:
1. A confidential source informed the FBI that Kevin Weeks and several of his associates threatened individuals from testifying before the grand jury or cooperating with law enforcement. We request the identity of this source. See Bates # 00376348.
(There are lots of information in FBI reports that comes from confidential sources. As I pointed out many of it is raw and the FBI usually will respond to this request by saying the informant had no first hand knowledge about this and it is only based on "street talk." I've criticized the FBI for putting these things in writing as if they are valid assertions but when called upon to support them pass them off as mere rumors. It shows how the FBI wants to have its cake and eat it, a poor way to conduct a law enforcement agency.)
2. A 2006 FBI report indicates that a confidential source informed the FBI that Kevin Weeks and Patrick Nee were involved in the sale of illegal narcotics. See Bates # 00376367. Please provide the identity of the source and any and all documents reflecting an investigation into this tip. If no investigation was made, please indicate so. We consider this a promise or reward if no investigation was made or prosecution initiated.
(This is a good move by the Carney and Brennan team. The FBI will refuse to disclose the source and will be backed by the judge. But here things are a little different. If the FBI did nothing about the report then it may indicate that it was another inducement to Weeks to turn state's evidence and it may show there was a relationship between the FBI and Pat Nee that the FBI has wanted to hide.)
3. Captain Robert Kelliher of the Massachusetts State Police provided a summary report of an individual regarding allegations of an FBI agent and statements about his contacts with known associates of Mr. Bulger. The four page report is highly redacted. See Bates # 00082844-47. We request this document be produced in its entirety without redactions.
(We've seen how the ACLU requested something from the FBI under the Freedom of Information Act and it received 20 or so pages and everything on them were blacked out. Redactions destroy much of the worth of documents produced. Carney and Brennan should be able to see the full report of what happened between this FBI agent and Whitey's associates. Hopefully the judge recognizes this.)
4. The documents you produced on May 20, 2013 reveal two other testimonies of Julie Rakes related to the alleged extortion that we do not possess. The testimonies are from September 12, 1995 and December 6, 1996. See Bates # 00376942 and 00376728, respectively. Please produce these two transcripts. 
(Julie Rakes has indicated Whitey extorted her husband's liquor store from him. She testified in the Connolly case about what had happened. Her story has been contradicted by her sisters and others. She is not listed as testifying for the government so I'm uncertain why Carney and Brennan want to see this. Her husband Steve Rakes is listed as a witness so they probably want it to contradict his testimony.)
By the way, the prosecutors have listed 82 people as witnesses. Two of them,James "Jimmy the Sniff" Katz (one of the smartest bookies I ever wiretapped) and Joseph "Joey Y" Yerardi (one of Martorano's guys) are men I arrested for booking and sent off to jail. The feds used my prior convictions of these guys to knuckle them under. Howie Levenson, another bookie, I tried to get but didn't is also scheduled to testify.
Both Katz and Levenson are called "relocated witnesses" which means they are in the witness protection program. Two other witnesses on the list are also in that program. I have to believe that Katz and Levenson are still booking only this time they are doing it under the protection of the FBI. This is what the deal was with Sammy Berkowitz a bookie in Chelsea who was protected by corrupt agent John Morris who had him as a top echelon informant and took money, the use of a Florida condo, and other gifts from him. The FBI has its own group of bookies.
Oh, yes, speaking of Agent Morris he is also scheduled to testify. We just have to wait with bated breath to see him cry when he tells of how he was caused to become corrupt by Whitey. He'll also cry when he tells us how he tried to have Whitey murdered. That in itself should be worth the price of admission seeing Jay Carney offer him a handkerchief to wipe away his faux tears.