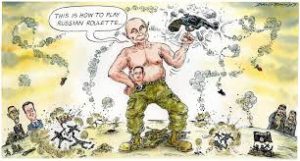 I don't like Putin's or the anti-American criminal cabal that surrounds him. I have accepted that since the 1917 Russian Revolution and the establishment of the Bolshevik government in Russia and what was to become the Union of Soviet Socialist Republics that it has been the goal of those who have been in power in the USSR and Russia (except for a short period after 1989) to undermine the United States.
Looking back at the beginning of the 20th century I find it interesting to see how many in America supported the overthrow of the Tsar Nicholas II. It was hoped that the Russian people would then organize themselves into a democracy. Unfortunately that did not happen.
Under communist rule it became a large prison where vast amounts of people suffered through great famines and losses of liberty – words such as gulag and Walter Duranty would become well-known.  We allied ourselves with the USSR in our fight against the Nazis but shortly after that victory the Iron Curtain came down and the USSR began the imprisonment of its own people.
Now we see as we have seen through the years there have always been groups of Americans looking kindly upon a nation where the people have little rights. The socialists became communists after the Russian Revolution and worked under Moscow's direction seeking to provoke an overthrow of our country; we suffered through the Cold War rubbing against each other so often that during 1962 we were prepared to nuke each other. We are now at the stage where Putin the Good according to the Trumpeteers is someone we should associate with – apparently his good is that he is homophobic and pro-life. That is enough for some to admire him as being "very, very, very intelligent."
These are the new Walter Durantys. He, as most know, was writing admiring articles in the New York Times about Joseph Stalin who was in the process of starving millions of  people in Ukraine who he controlled. Look up the word Holodomor. It is the overlooked genocide of the 20th Century. Like with Putin, some Americans could point to some things that they found favor with when it came to Stalin and ignore all the inherent evil of the man and his system.
Former ambassador to Russia Michael McFaul said everyone there knows they are under surveillance and that they are constantly engaged in disinformation campaigns, disinformation being another word for lying. It is known by Russian experts that when Putin took over after his short hiatus, "A raw and resentful anti-Americanism, unknown since the seventies, suffused Kremlin policy and the state-run airwaves." 
Russia is not our friend and while Putin is in power it will never be since he needs us as his enemy to keep up his heavy hand at home. We are now reading how upset many in our Congress are that Russia undertook to influence the outcome of the election between Trump and Clinton by favoring the former. We are told this is an outrageous attempt by a foreign government to interfere with the American presidential election.
Now as you can tell I am not about to minimize anything when it comes to the Russians. However it must be pointed out that this is nothing new. Foreign leaders have in the past tried to interfere and few seemed to complain about it. Wasn't it only four years ago that Benjamin Netanyahu came to America and was invited to speak before Congress (imagine that happening to Putin) while at the same time he was supporting the Republican candidate Romney and working against the American president Obama.
How then one must ask is there such a furor over Putin's activities when those of Netanyahu were of the same moment?  I am sure there have been prior interferences by other foreign governments in the same way we have interfered with elections in other countries. The uproar over this is watching an old act (the election) in a side ring of the three-ring circus. In the center ring which is the main part of the show we should be watching what Russia's role will be in Trump's America. Is Trump going to be our next Walter Duranty?